REALFORCE R2 PFU Limited Edition (Black/45g/TKL)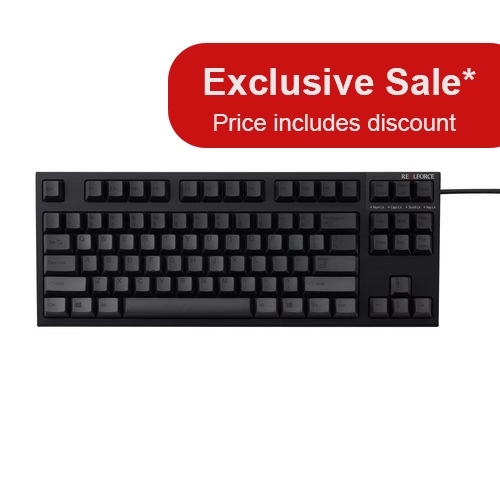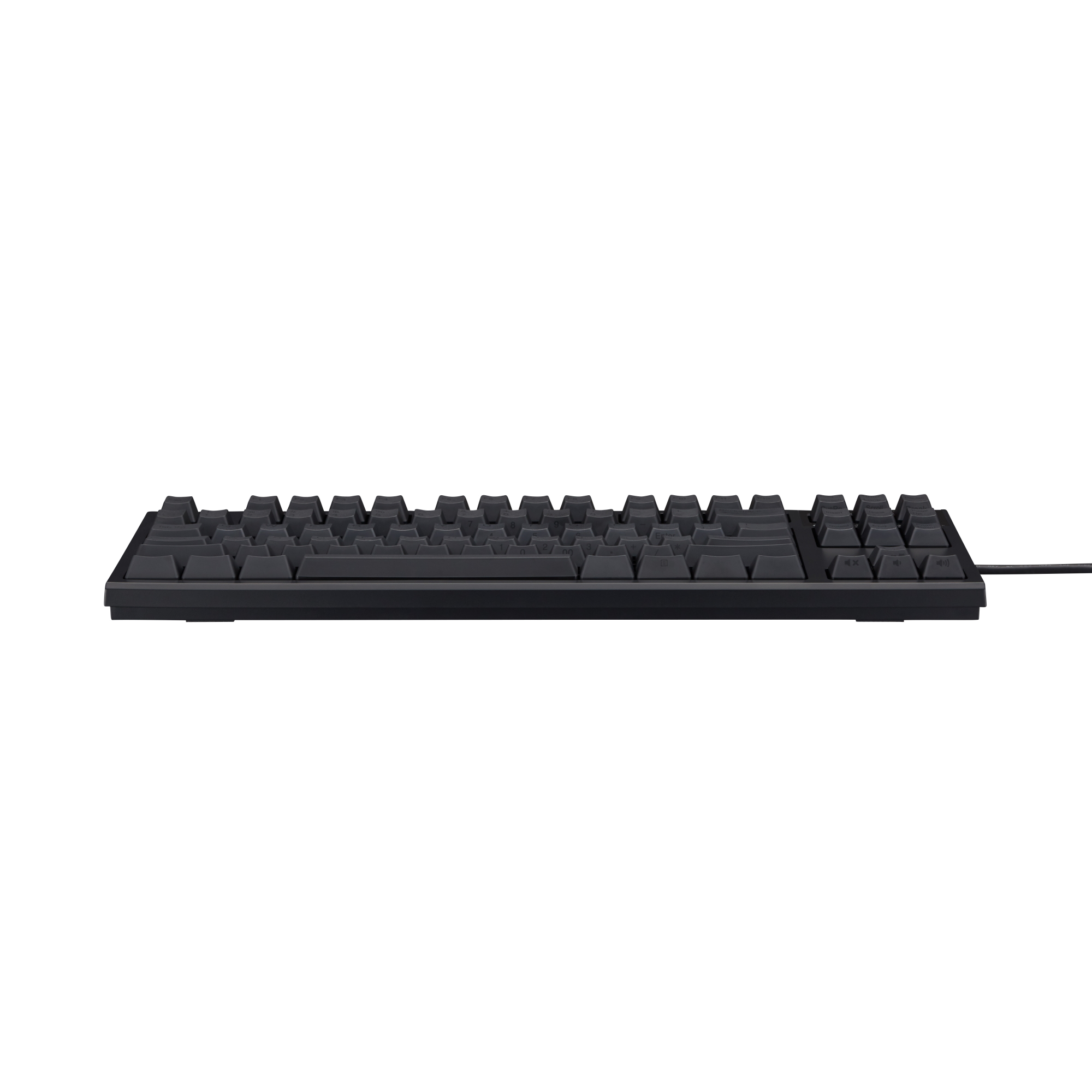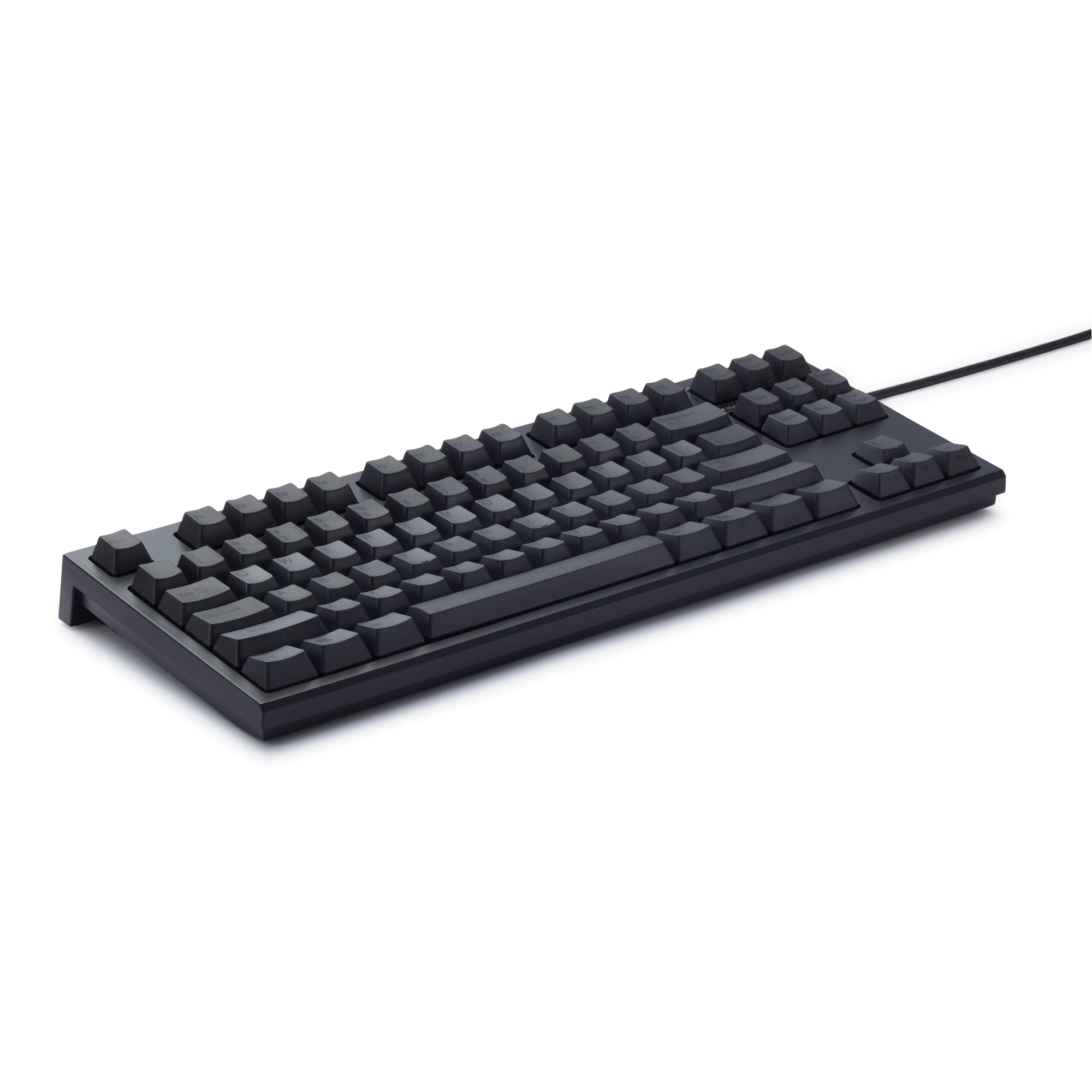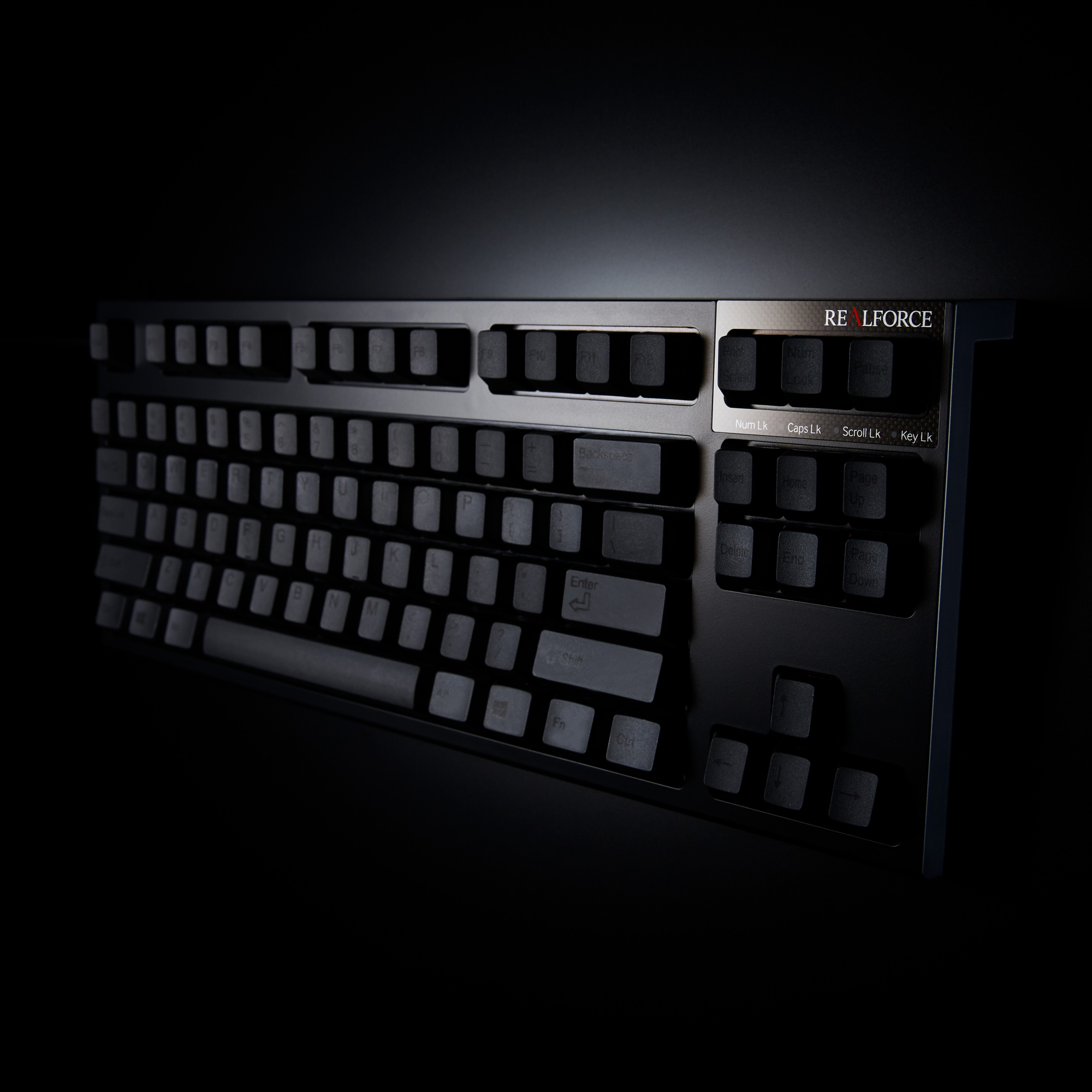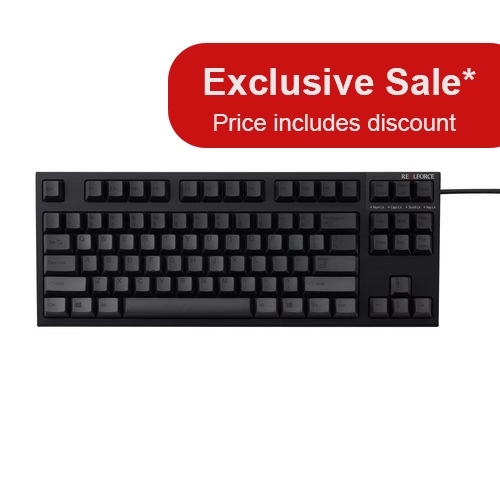 REALFORCE R2 PFU Limited Edition (Black/45g/TKL)
---
87-Key Tenkeyless Silent Professional Keyboard 45g USB AHBZP7
*RRP CHF 281.24 excl. VAT. While stock lasts.
---
Topre Capacitive Silent Keyswitches for a quieter REALFORCE experience
Full N-Key Rollover with no ghosting
Customise keystroke actuation points with Actuation Point Changer
Ideal for developers, IT professionals, authors, journalists or other touch-typing professionals
Product Description
The REALFORCE R2 PFU Limited Edition range was built by Topre to a PFU specification. Sharing much of the design DNA with their progenitor, the Legendary Topre REALFORCE R2, the PFU Limited Edition keyboards employ the PFU signature 45g Key Weight with the addition of Silent Keyswitches and actuation point customisation in a 108-Key or 87-Key Tenkeyless formats. Their design also incorporate many ideas to reduce finger and wrist fatigue, whilst increasing keystroke precision and ultimately, increased keystrokes per minute. REALFORCE R2 PFU Limited Edition keyboards are ideal for developers, IT professionals, authors, journalists or other touch-typing professionals, but they are equally at home in the hands of a discerning gamer.
87-Key Tenkeyless keyboard with US ANSI Layout
Topre Capacitive Silent Keyswitches eliminate key chatter, providing the ultimate keystroke precision and a quieter REALFORCE experience
Full N-Key Rollover, so no matter how fast you type, or how many keys you press together, the keyboard will precisely register every keystroke without ghosting
With Actuation Point Changer (APC) you can customise the keystroke actuation point on an individual key basis
45g Key Weight for unparalleled responsive and a natural tactile feeling
Cylindrical step sculpted design provides better ergonomics and helps keep your fingers at home, on the home row
Long-Life Dye-Sublimation printed PBT Keycaps so keycap legends remain visible after many years of use
2 height settings allow you to adjust the angle of tilt from the rear of the keyboard
Integrated 3-Directional cable management
Keyswitch Lifetime = 50m Keystrokes
Chassis and Keycap Colour = Black / Keycap legend Colour = True Black
Windows® 10, 8.1, 8, 7
Designed & made in Japan = Commitment to quality, durability, and technological sophistication
Technical Specifications
Chassis Format: Tenkeyless keyboard
Layout: 87-Key US ANSI Layout
Chassis Colour: Black
Keycap Colour: Black
Keycap Legend Colour: True Black
Key Switches: Topre Electrostatic Capacitive Silent Key Switches
Keystroke Actuation Points (Individually programmable): 1.5 mm, 2.2 mm, 3.0 mm
Key Weight: 45 g
Key Travel: 4 mm
Key Pitch: 19.05 mm
Keycap Material: Keys & Spacebar: Polybutylene Terephthalate (PBT)
Keycap Legends: Long-Life Dye-Sublimated
Chassis & Key Ergonomics: Cylindrical Step Sculpted design
Keyswitch Lifetime: 50 million keystrokes
Interface: USB 2.0
Cable Length: 1.7 m (Type-B Connector)
Height/Tilt Adjustment: 2 Positions
Cable Management: 3 Directional (Left / Rear / Right)
Keyboard Dimensions (W x D x H): 369 mm x 142 mm x 30 mm
Keyboard Weight: 1.1 Kg (Approx.)
Supported Operating Systems: Windows® 10, 8.1, 8, 7 (32-bit / 64-bit) *¹
Manufacturer Warranty: 2 Year PFU Warranty, Advance Exchange Next Business Day, Includes replacement of product and two-way shipping costs
*¹ Actuation Point Changer (APC) software available for Windows® via download.
What's in the Box
Actuation Point Changer Software for Windows® (Download)
1.7m USB 2.0 Cable (Attached)
User Guide
Safety Precautions
2 Year PFU Warranty