ScanSnap iX100 (Black)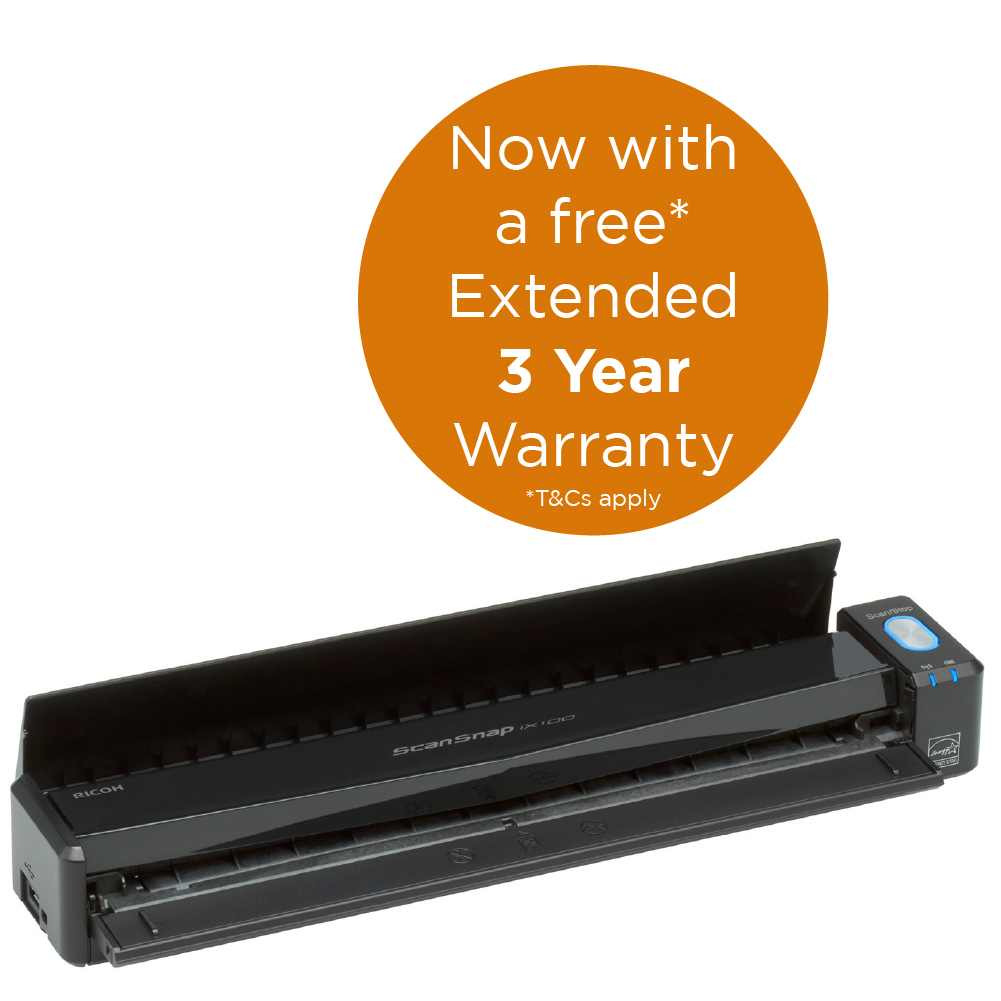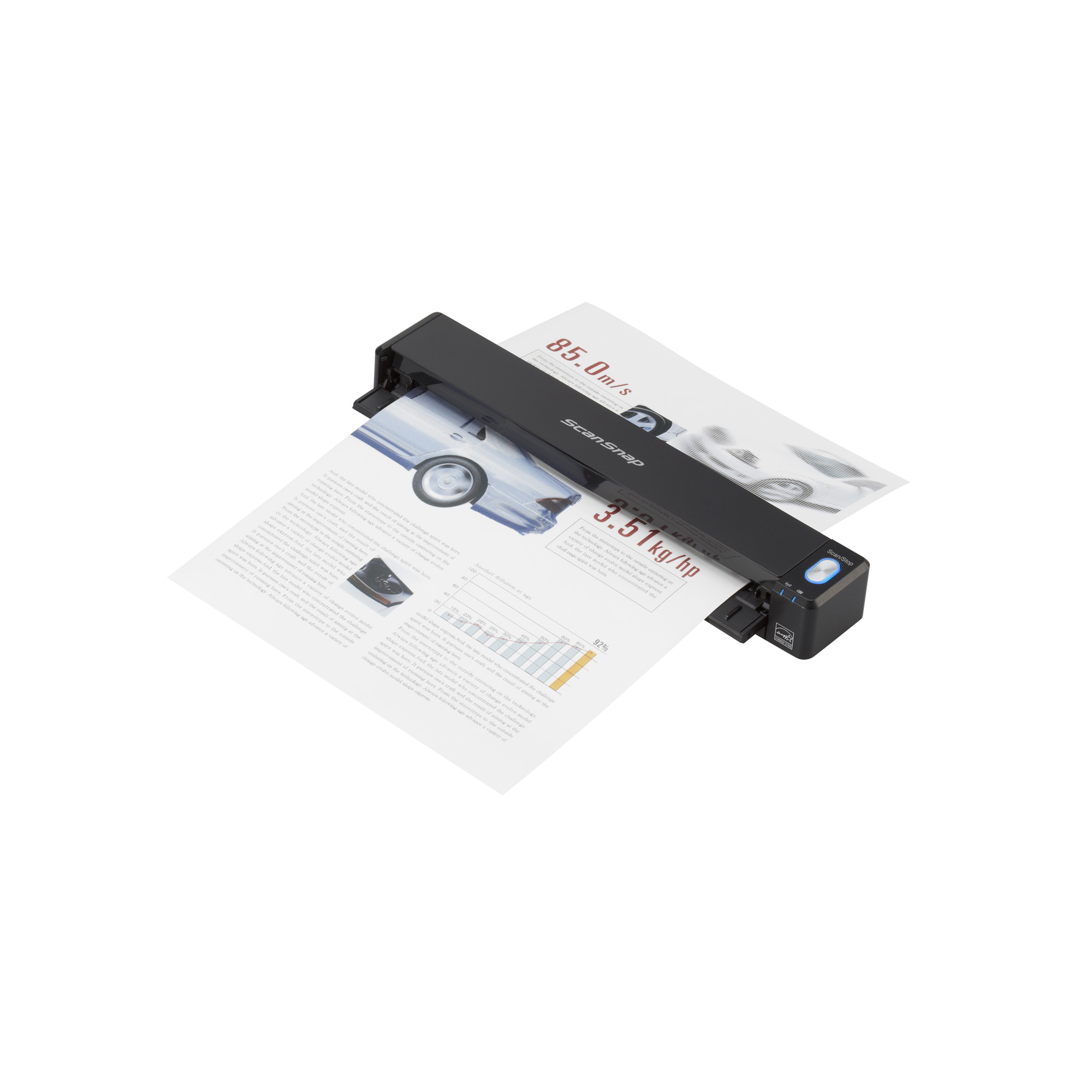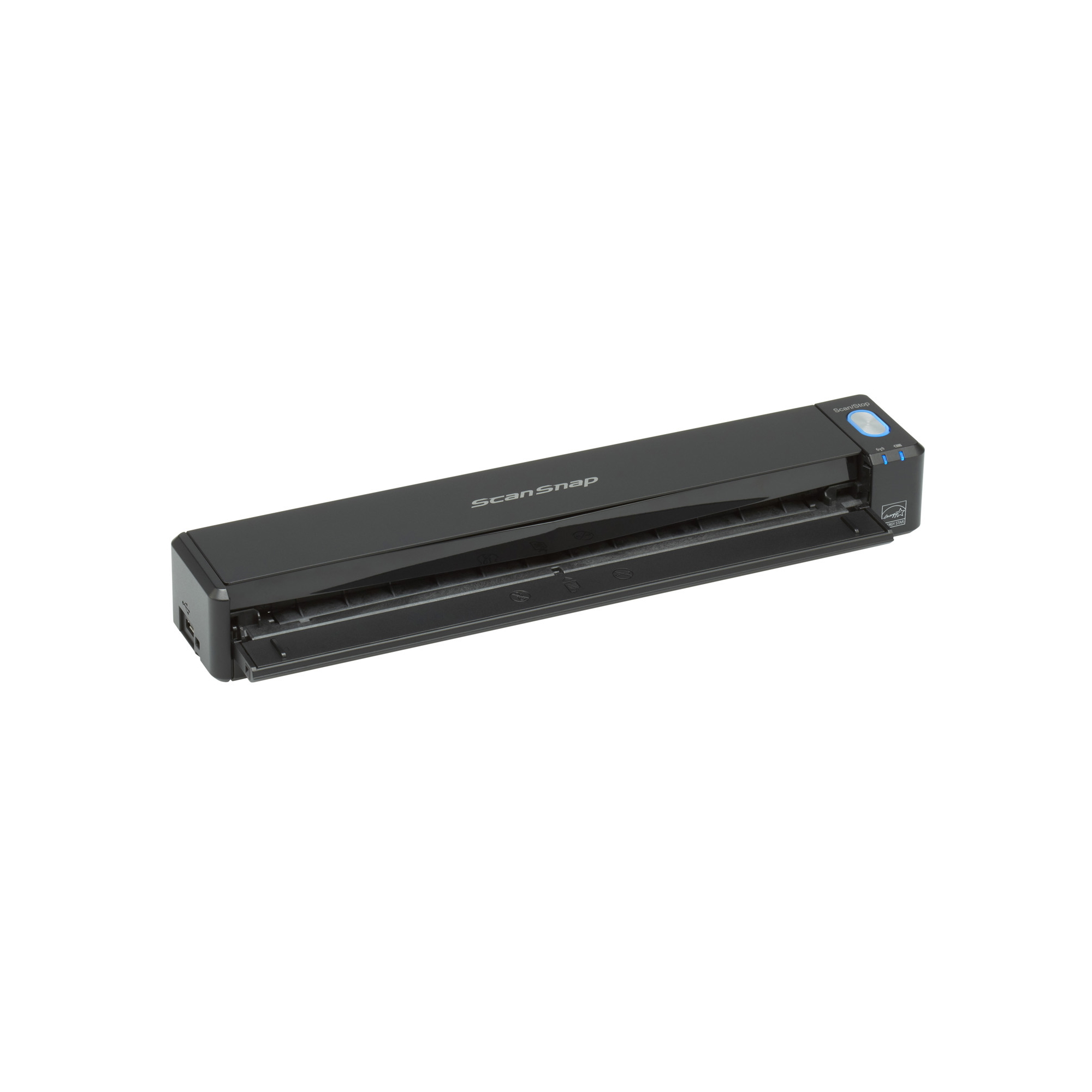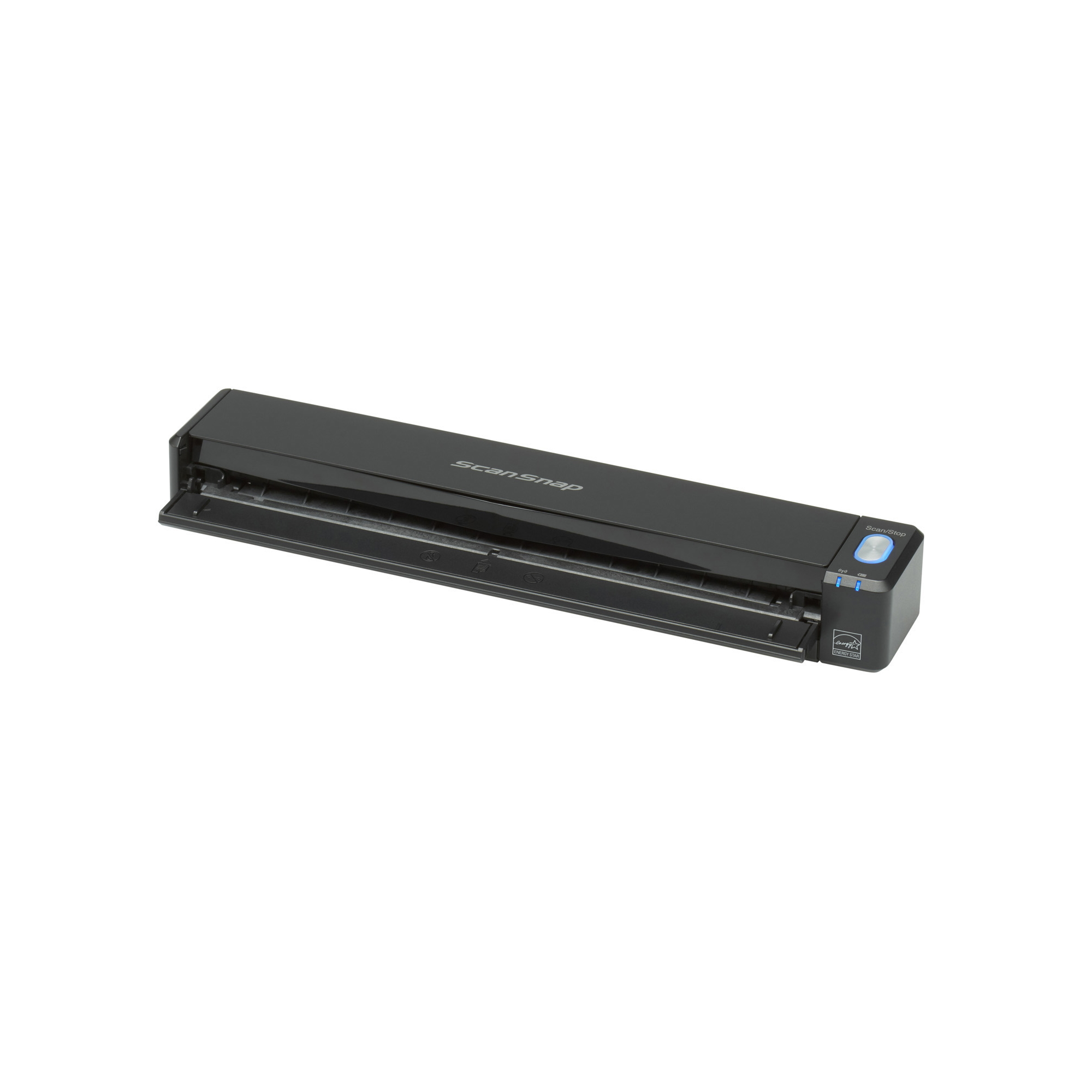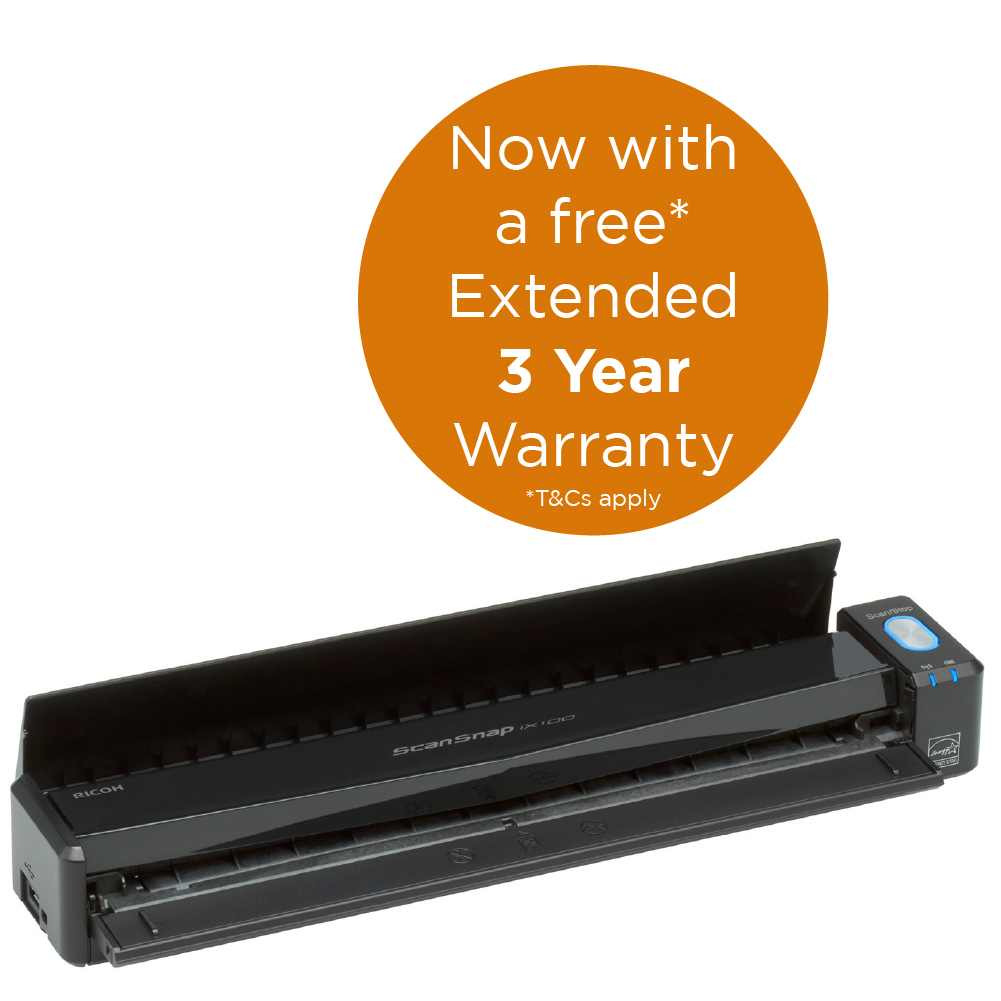 ScanSnap iX100 (Black)
---
12ppm/12ipm A4 Simplex Battery/USB/Mains powered USB2.0 LED Mobile Scanner
---
One button PDF creation
Scan wirelessly to mobile and desktop devices, cloud services and office applications
260 scans between charges with rechargeable Lithium-ion battery
Windows®, macOS®, iOS® and Android™ compatible

From now until 30th September 2023, when you buy any new ScanSnap scanner from our range, we're offering a free* Extended 3 Year Warranty.

Product Description
Work smarter at work, at home or 'on the go' with the mobile ScanSnap iX100. Whether scanning receipts, contracts, recipes, or plastic cards, the iX100 takes wireless scanning beyond the desktop and into your mobile world.
Compact, lightweight, colour, mobile simplex scanner
One button searchable PDF
Scan to PDF, PDF/A (Windows™ only), Jpeg or editable formats such as Microsoft® Word® or Excel®
Scan wirelessly to your Windows® PC, Mac® and iOS® or Android™ mobile device
Scan 5.2 seconds per page at 300 dpi in colour (approx 12ppm)
Automatic Size Detection, Colour Detection, Cropping, Deskew, Rotation, Image Smoothing, Image Emphasis, Error Diffusion, Edge Correction
Scan A4, A5, A6, B5, B6, Business Card, Post Card, Letter, Legal and Custom Size documents with the ADF
Scan A3, B4 or Double letter size with automatic stitching function by folding document and scanning one side at a time
Dual path supports paper weights of 52 g/m² to 209 g/m² via Straight Path and 52 g/m² to 80 g/m² via U-turn Path
Supports card scanning of 0.76mm or less (non-embossed)
Lithium Ion battery powered - May be charged and powered by USB or AC (with optional AC Adapter)
Battery Life up to 140 scans between charges
Wi-Fi or USB
Technical Specifications
Scanner Type: Continuous Document Feeding (CDF) / Sheetfed Simplex Mobile Scanner, Two-way paper path (Straight path, U-turn path)
Scanning Colour Modes:: Colour, Greyscale, Monochrome, Automatic Detection (Colour / Greyscale / Monochrome)
Optical Resolution: 600 dpi
Image Sensor: Colour Contact Image Sensor (CIS) x1
Light Source: 3 Colour LED (Red / Green / Blue)
Scanning Speed (A4 Portrait):
Auto Mode (Default): 7.5 seconds per page (Approx 7 ppm)
Normal Mode: Colour / Greyscale 150 dpi, Monochrome 300 dpi – 5.2 seconds per page (Approx 12 ppm)
Better Mode: Colour / Greyscale 200 dpi, Monochrome 400 dpi – 5.2 seconds per page (Approx 12 ppm)
Best Mode: Colour / Greyscale 300 dpi, Monochrome 600 dpi – 5.2 seconds per page (Approx 12 ppm)
Excellent Mode: Colour / Greyscale 600 dpi, Monochrome 1200 dpi – 20.4 seconds per page (Approx 3 ppm)
Standard Sizes: A4, A5, A6, B5, B6, Business Card, Post Cards, Letter, Legal
Custom Sizes: Minimum: 25.4 mm x 25.4 mm (1" x 1"), Maximum: 216 mm x 360 mm (8.5" x 14.17")
Paper Sizes with optional Carrier Sheets: A3, B4, Double Letter, Photographs and all the document sizes that are listed above
Continuous Scanning: 260 sheets (A4, Colour, Simplex, 300 dpi)
Long Paper Scanning: Maximum: 216 mm x 863 mm (8.5" x 34") at 300 dpi or less
Card Scanning: Card 0.76 mm or less (Non-embossed), 0.76 + 0.48 mm (Embossed) (ISO7810 Conforming) in landscape orientation
Paper Weight: 52 g/m² to 209 g/m² (14 lb to 56 lb) Straight Path, 52 g/m² to 80 g/m² (14 lb to 56 lb) U-turn Path
Image Processing Functions: Automatic Size Detection, Automatic Colour Detection, Automatic Cropping, Automatic Deskew, Automatic Rotation, Image Smoothing, Image Emphasis, Error Diffusion, Edge Correction, JPEG Compression
Output File-types: JPEG, PDF, Searchable PDF, Password PDF, PDF/A
Local Interface (USB Port): USB 2.0 / 1.1 (Type Micro-B Connector)
Wi-Fi Interface: Compliant to: IEEE802.11 A / B / G / N, Wi-Fi Frequency Band: 2.4 GHz, Wi-Fi Connection Modes:Access Point Connect Mode (Infrastructure Mode), Direct Connect Mode (Ad-hoc Mode), Wi-Fi Security:WEP (64bit / 128bit), WPA (TKIP / AES), WPA2 (AES), WPA-PSK (TKIP / AES), WPA2-PSK (AES), Wi-Fi Protected Setup (WPS): WPS2.0
Power Requirements: 5V / 1.5A (via x1 USB Port), 100V - 240V AC ±10 % (50 / 60 Hz) (via optional AC Adapter)
Device Drivers: ScanSnap Home (ScanSnap Specific Driver), TWAIN / ISIS® not supported on Windows® or macOS®
Device Dimensions (Width x Height x Depth): 273 mm x 47.5 mm x 36 mm (10.74" x 1.87" x 1.42")
Device Weight (Approx): 400 g (0.88 lb)
Manufacturer Warranty: 2 Year PFU Warranty, Advance Exchange Next Business Day, Includes replacement of product and two-way shipping costs
What's in the Box
ScanSnap Home application license for 1 user*1
ScanSnap Connect Mobile App*2
ScanSnap Cloud Mobile App*2
ABBYY® FineReader for ScanSnap
1x 2.0 Metre USB2.0 cable (Type-A)
Software License Certificate
Welcome Card
Safety Precautions Sheet
Warranty Sheet
2 Year PFU Warranty
*1 Requires Windows® 10, 8.1, 7 or macOS® 10.15, 10.14. Legacy ScanSnap Software suite available via free download for compatibility with macOS® 10.13, 10.12, 10.11)*2 ScanSnap Connect and ScanSnap Cloud Mobile Apps require iOS® 10 or higher / Android™ 4.4 KitKat or higher and are available via the App Store® and Google Play™