ScanSnap iX1300 (Black)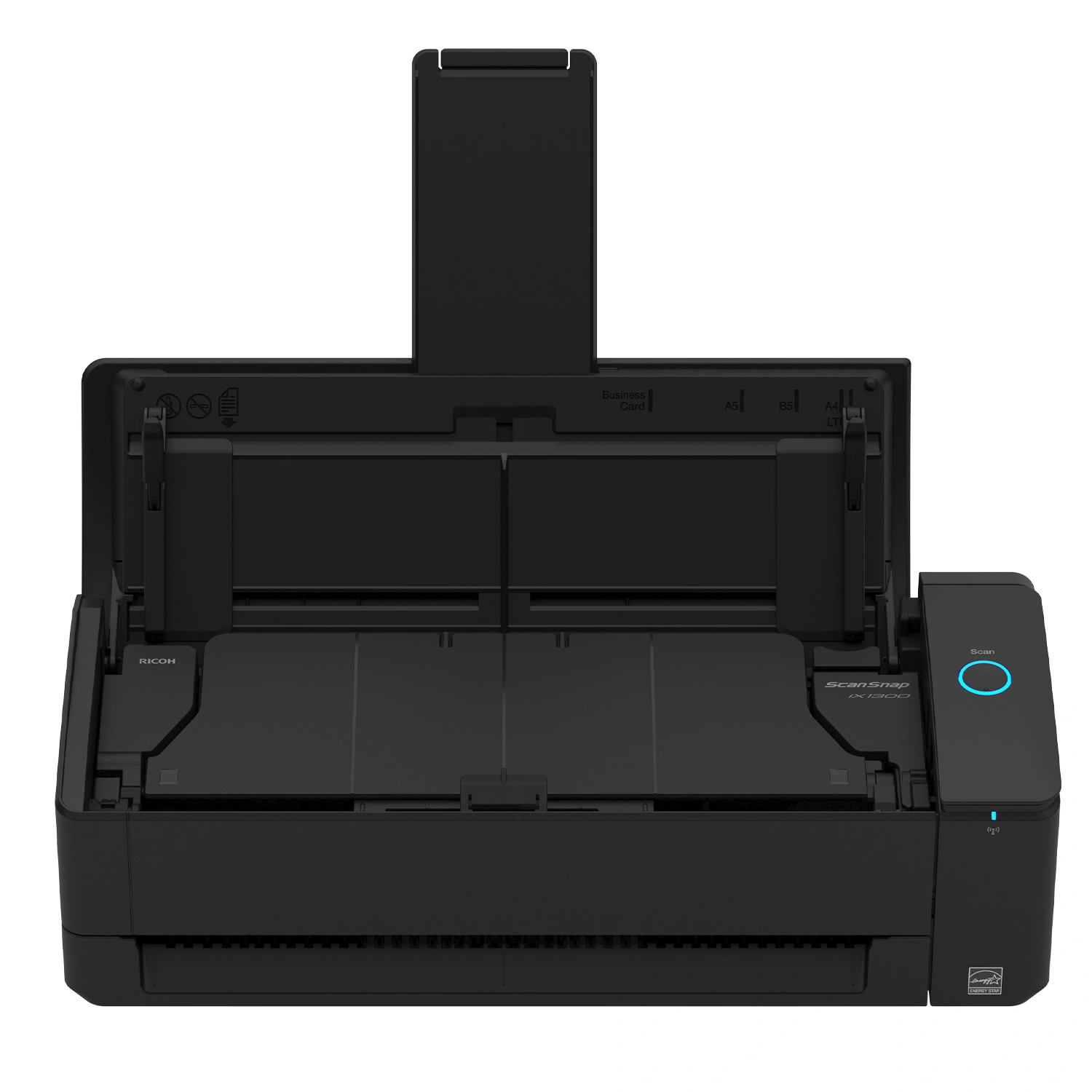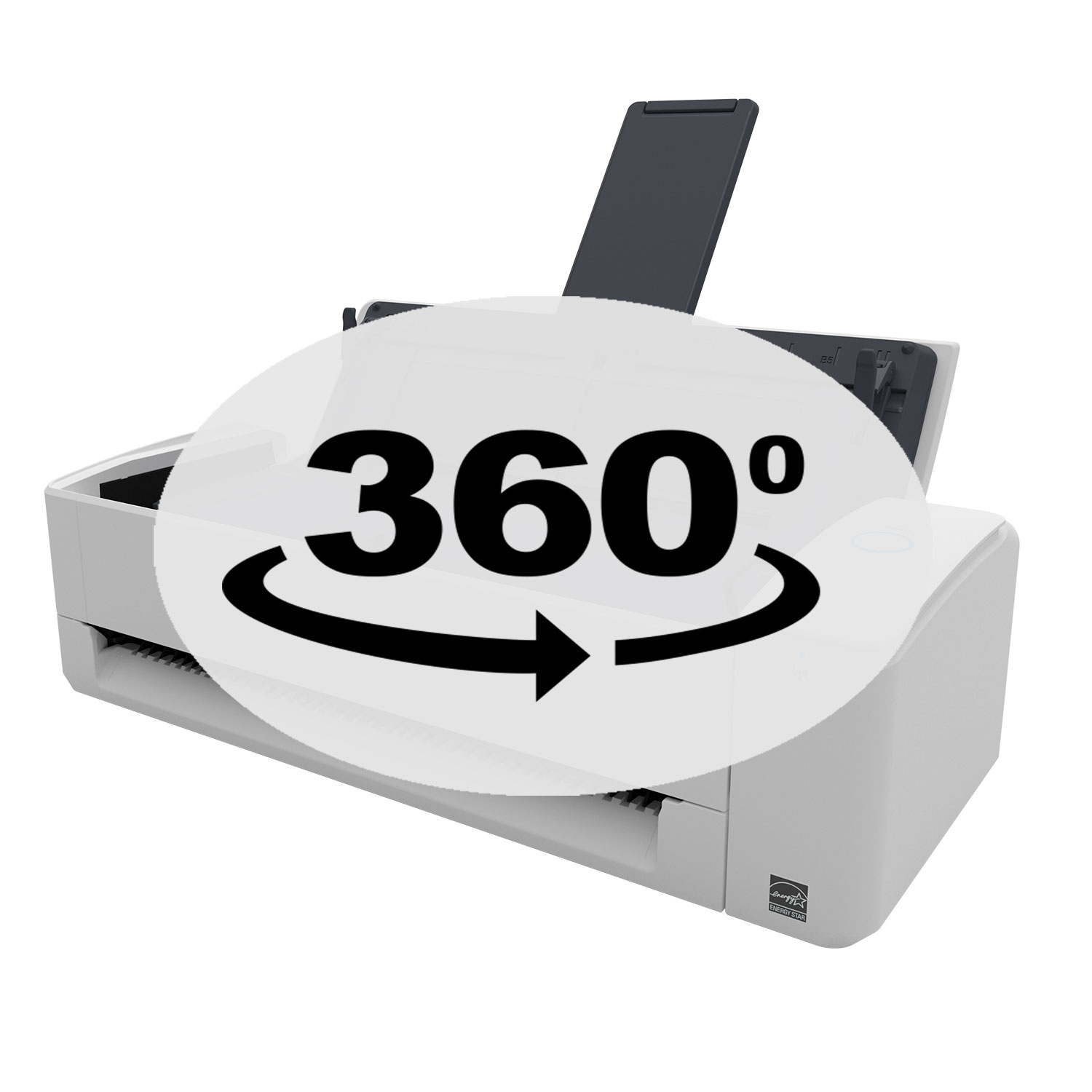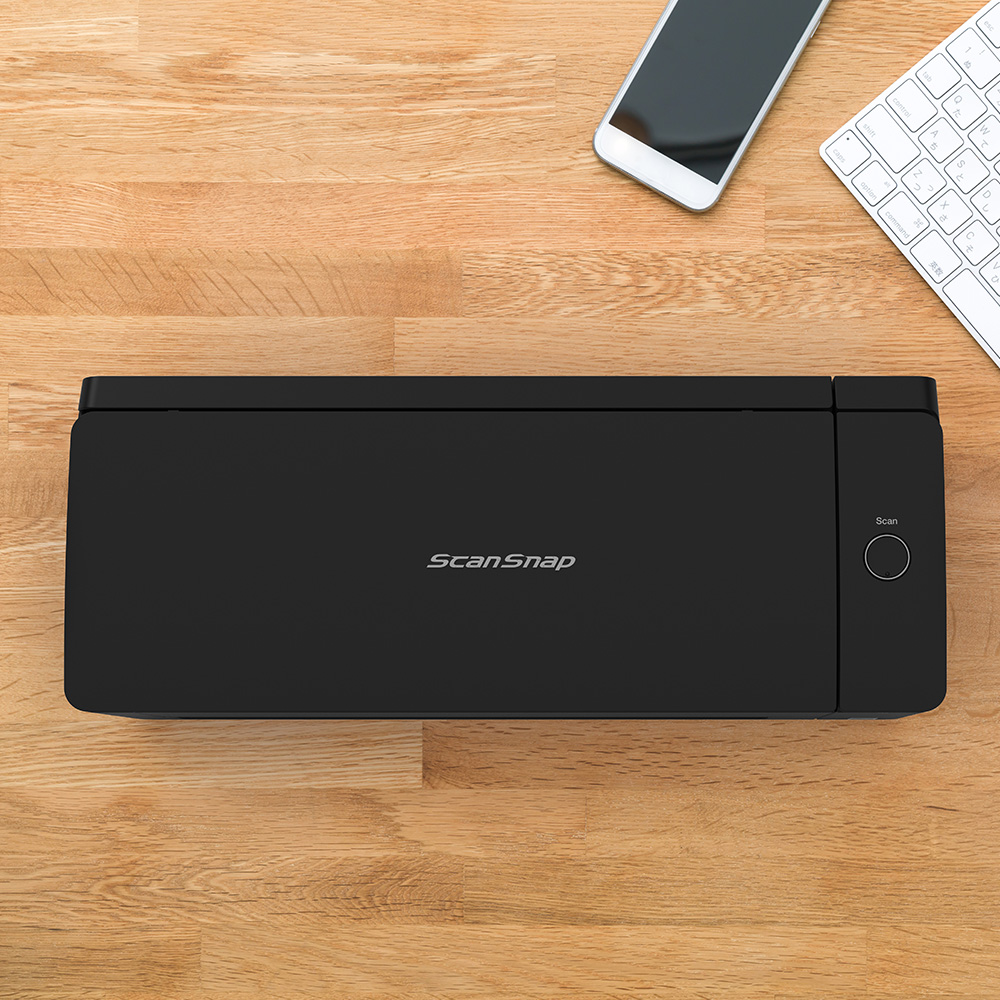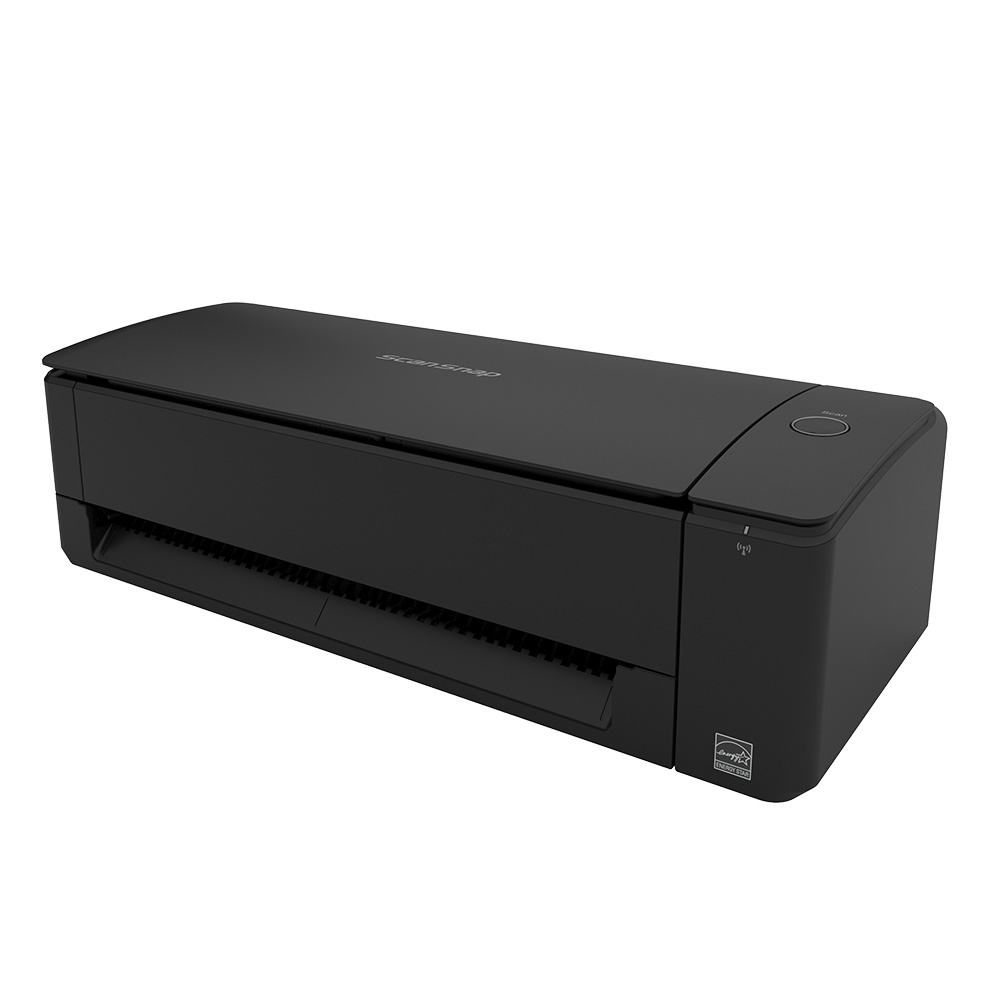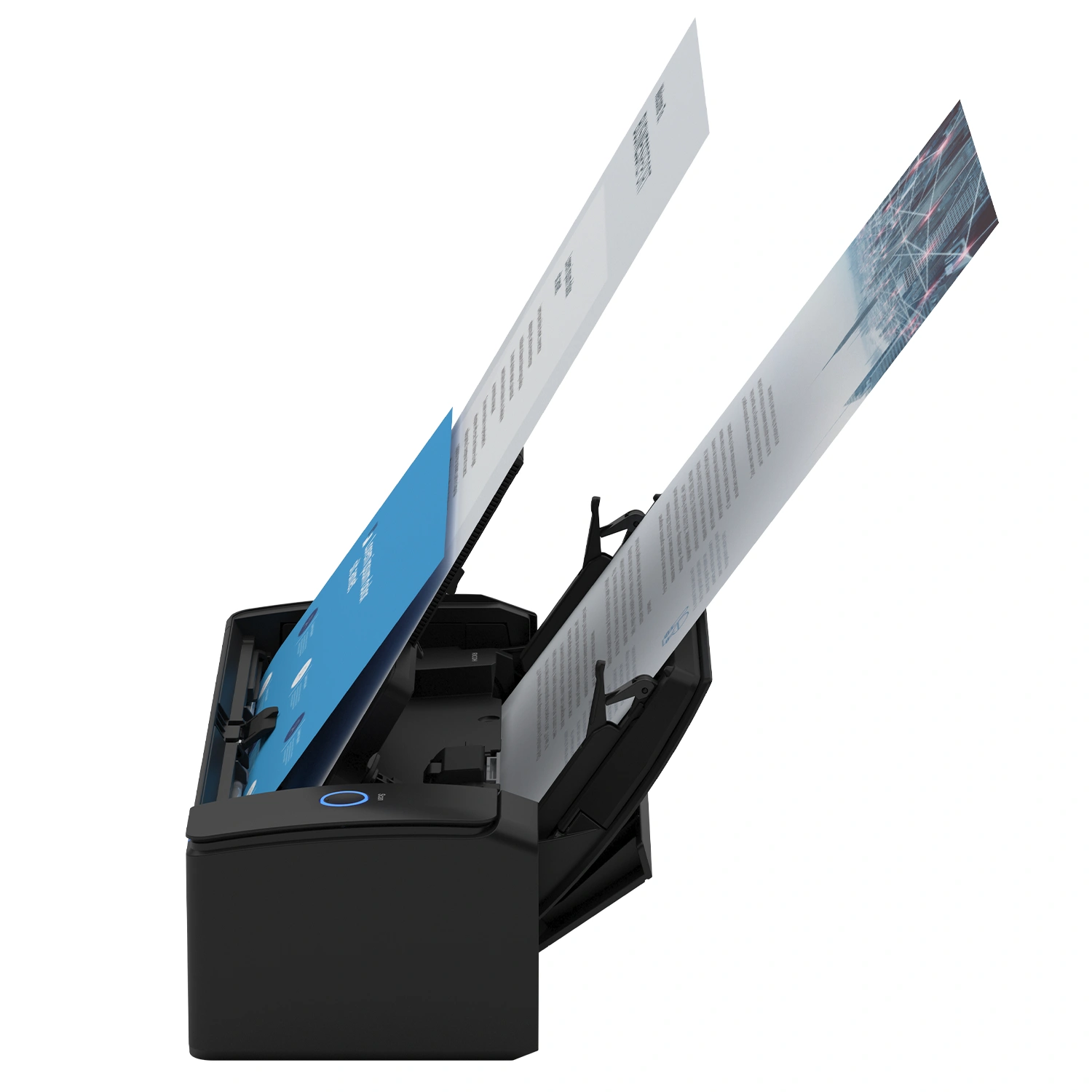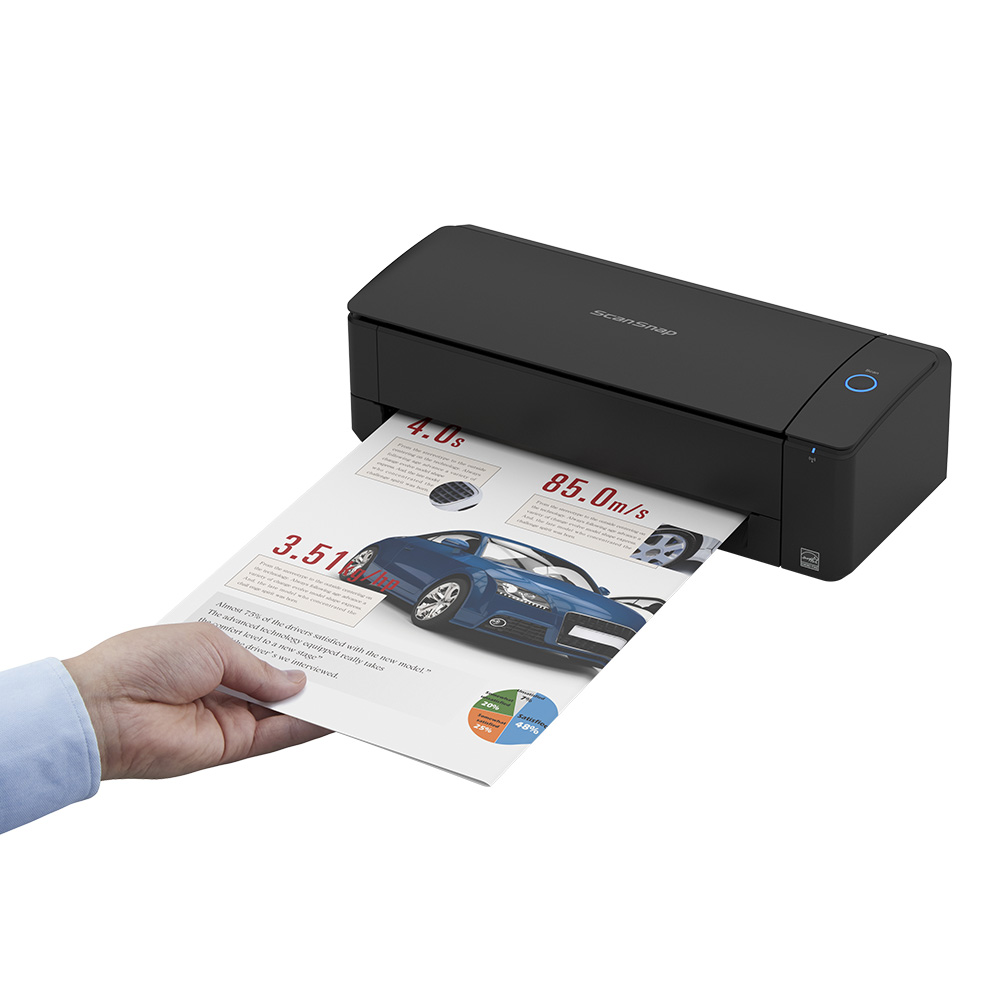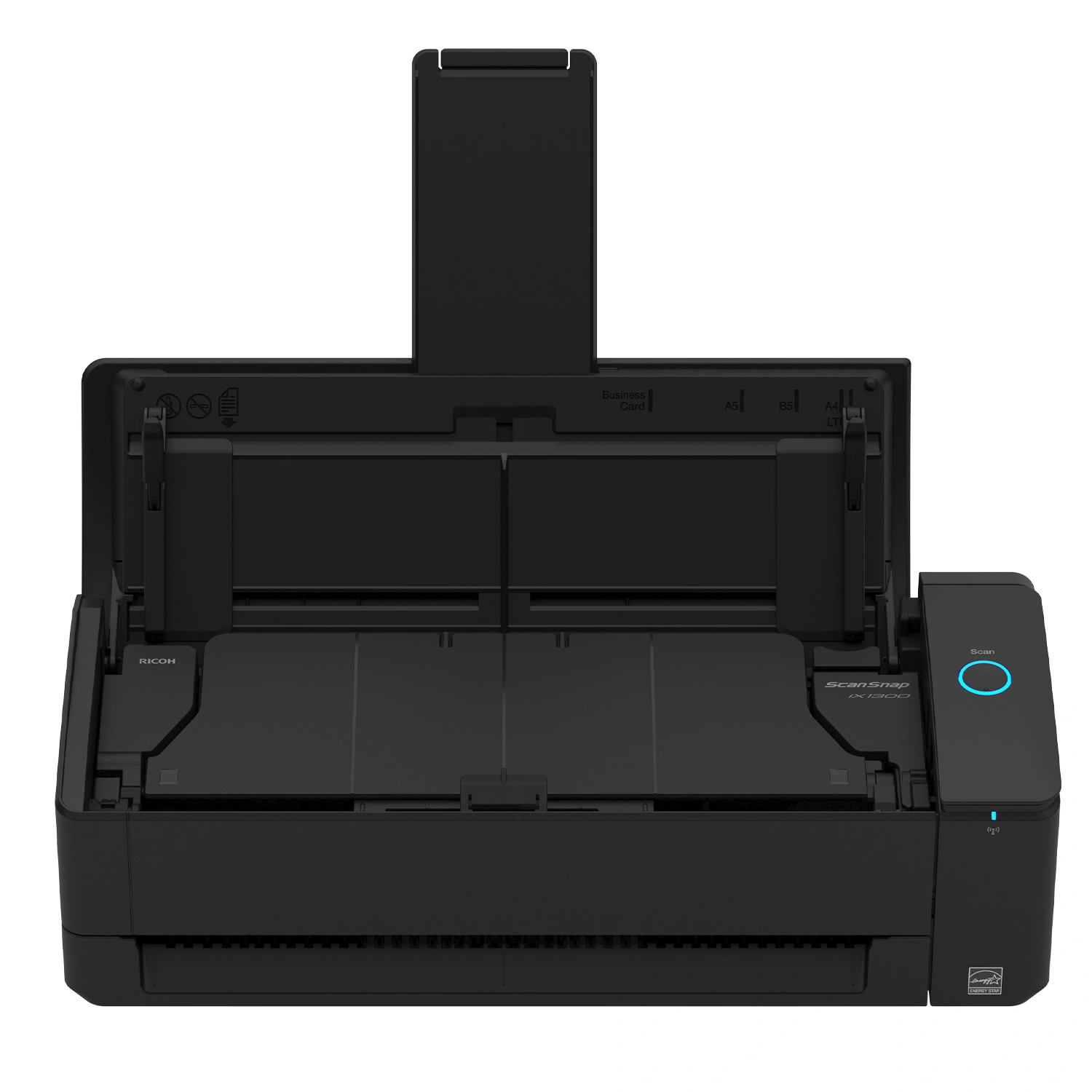 ScanSnap iX1300 (Black)
---
30ppm/60ipm A4 Duplex Dual-Path ADF Wi-Fi USB3.2 LED Desktop Scanner.
---
Ultra-compact size. Ideal on any desk and 'on the go' thanks to tiny operational footprint.
Versatility Instantly scan any document up to 2mm thick without even opening the cover.
Practical productivity. PC-free scanning at 30 double-sided pages per minute directly to cloud, file or mobile.
Intuitive software: Easily search, manage, and retrieve your scanned documents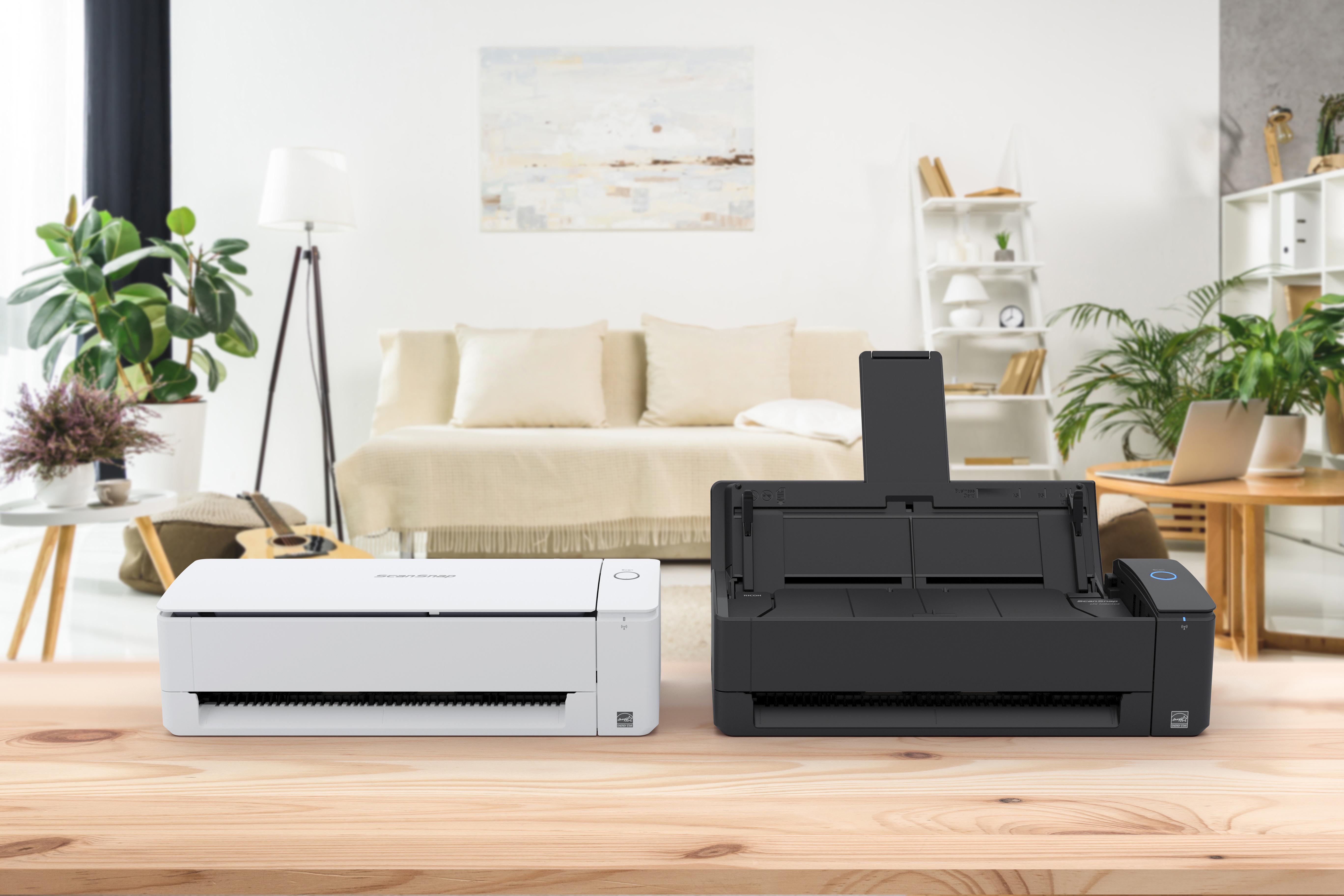 Fits into your life, on any desk
The modern way of working can be full of surprises, and we can all find ourselves working in tight spaces and new places.
The smart and ultra-compact iX1300 is designed to fit into any office desk or home office setup, helping you stay productive wherever life takes you.
Simple, Practical and Efficient
The iX1300's innovative feed path creates a tiny operational footprint that makes it our smallest desktop scanner yet. Instant Wi-Fi connectivity and PC-free scanning to cloud services using ScanSnap Cloud are all part of a smarter way to work.
The iX1300 is packed with time-saving features to boost efficiency; with no wait time to warm up, you are ready to go in seconds. Plus, the Return Path capability means you can instantly scan individual sheets without even opening the cover. And a 20-sheet feeder and impressive 30 double-sided pages per minute speed let you finish scanning in no time at all.
The intuitive ScanSnap Home software (included) helps you easily convert the papers you have, into the digital files you need. Giving you greater control over your admin so you can focus on what matters most.
There's plenty of personal productivity packed into our most practical scanner yet, ensuring the iX1300 makes paper work for you and your business.
Technical Specifications
Product Name
ScanSnap iX1300 (White / Black)
Scanner Type
ADF (Automatic Document Feeder) / Manual Feeder, Duplex
Scanning Speed*1 (A4 portrait)
U-turn Scan (ADF)
Auto mode*2
Simplex / Duplex: 30 ppm
Normal mode
Simplex / Duplex: 30 ppm (Color / Grayscale: 150 dpi, Monochrome: 300 dpi)
Better mode
Simplex / Duplex: 30 ppm (Color / Grayscale: 200 dpi, Monochrome: 400 dpi)
Best mode
Simplex / Duplex: 30 ppm (Color / Grayscale: 300 dpi, Monochrome: 600 dpi)
Excellent mode*3*4
Simplex / Duplex: 9 ppm (Color / Grayscale: 600 dpi, Monochrome: 1,200 dpi)
Return Scan (Manual Feeder)
Auto mode*2
5 seconds (Color / Grayscale: 150 dpi, Monochrome: 300 dpi)
Normal mode
5 seconds (Color / Grayscale: 150 dpi, Monochrome: 300 dpi)
Better mode
5 seconds (Color / Grayscale: 200 dpi, Monochrome: 400 dpi)
Best mode
5 seconds (Color / Grayscale: 300 dpi, Monochrome: 600 dpi)
Excellent mode*3*4
14 seconds (Color / Grayscale: 600 dpi, Monochrome: 1,200 dpi)
Scanning Color Mode
Color, Grayscale, Monochrome, Automatic (Color / Grayscale / Monochrome*3 detection)
Image Sensor
CIS x 2 (Front x 1, Back x 1)
Light Source
3 color LED (Red / Green / Blue)
Optical Resolution
600 dpi
Document Size
U-turn Scan (ADF)
Minimum: 50.8 x 50.8 mm (2 x 2 in.)
Maximum: 216 x 355.6 mm (8.5 x 14 in.)
Return Scan (Manual Feeder)
Minimum: 50.8 x 50.8 mm (2 x 2 in.)*6
Maximum: 216 x 355.6 mm (8.5 x 14 in.)
With Photo Carrier Sheet (Option)*3*5
Minimum: 25.4 x 25.4 mm (1 x 1 in.)
Maximum: 127 x 178 mm (5.0 x 7.0 in.)
With Carrier Sheet (Option)*3*5
Minimum: 25.4 x 25.4 mm (1 x 1 in.)
Maximum: 297 x 431.8 mm (11.69 x 17 in.)
With Booklet Carrier Sheet (Option)*3*5
Minimum: 25.4 x 25.4 mm (1 x 1 in.)
Maximum: 150 x 195 mm (5.9 x 7.67 in.)
Long Paper Scanning*7
PC
3,000 mm (863 mm in 32-bit)*8
Smart Device / Cloud
Duplex: 863 mm
Simplex: 1,117 mm
Paper Weight (Thickness)
U-turn Scan (ADF)
40 to 128 g/m² (11 to 34 lb)
A8 size or less: 128 to 209 g/m² (34 to 56 lb)
A6 size or less: 40 to 209 g/m² (11 to 56 lb)
Return Scan (Manual Feeder)
Paper: 20 to 413 g/m² (5.4 to 110 lb)
Booklets: 2 mm (0.08 in.) or less*3
Cards: 1.4 mm (0.06 in.) or less*9
(Includes embossed cards)
ADF Capacity*10
20 sheets (A4, 80 g/m² or 20 lb)
Multifeed Detection
Length detection
Interface
USB
USB 3.2 Gen1x1 / USB 2.0 / USB 1.1 (Connector Type: Type-B)*11
Wi-Fi
IEEE802.11a/b/g/n/ac
Frequency band: 2.4 GHz / 5 GHz*12
Wi-Fi Interface
Connection Mode
Access Point Connect Mode (Infrastructure mode)*13
Direct Connect Mode (Ad-hoc mode)*14
Security
WEP (64bit / 128bit), WPA (TKIP / AES), WPA2 (AES), WPA-PSK (TKIP / AES), WPA2-PSK (AES)
Easy Installation
WPS2.0
Rated Power (EIRP) (North America)
2.4 GHz: 11b: +23.5dBm / 11g: +22.0dBm / 11n/ac: +22.0dBm (20 / 40MHz)
5 GHz*12: 11a: +15.5dBm / 11n/ac: +16.5dBm (20MHz)
Rated Power (EIRP) (Others)
2.4 GHz: 11b: +19.0dBm / 11g: +20.5dBm / 11n/ac: +20.5dBm (20 / 40MHz)
5 GHz*12: 11a: +15.5dBm / 11n/ac: +16.5dBm (20MHz)
Power Requirements
AC 100 to 240 V, 50 / 60 Hz
Power Consumption
Operating Mode
17 W or less
Sleep Mode
USB connected: 1.7 W or less
Wi-Fi connected: 2.0 W or less
Standby Mode
0.3 W or less
Operating Environment
Temperature
5 to 35 °C (41 to 95 °F)
Relative Humidity
20 to 80% (Non-condensing)
Environmental Compliance
ENERGY STAR® / RoHS
Dimensions (W x D x H)*15
296 x 114 x 87 mm (11.7 x 4.5 x 3.3 in.)
Weight
2.0 kg (4.4 lb)
Driver
ScanSnap specific driver
Windows®: Does not support TWAIN / ISIS®
macOS: Does not support TWAIN
Software*16
ScanSnap Home (All-in-one document management software/driver)
ScanSnap Manager (Conventional driver)
ABBYY FineReader for ScanSnap™
Included Items
Safety Precautions, AC Cable, AC Adapter, USB Cable
What's in the Box
ScanSnap Home application licenses for 4 users*1
ScanSnap Connect Mobile App*2
ScanSnap Cloud Mobile App*2
Kofax Power PDF Standard (Windows®) / Kofax PDF Creator for Mac®
ABBYY® FineReader for ScanSnap
Receipt Guide
AC Adapter
EU / UK Power Cord
2.0m USB 3.0 Cable (Type-B)
Software License Certificate
Quick Installation Sheet
Safety Precautions Sheet
Warranty Sheet
2 Year PFU Warranty
*1 Requires Windows® 10, 8.1, 7 or macOS® 10.15, 10.14.*2 ScanSnap Connect and ScanSnap Cloud Mobile Apps require iOS® 10 or higher / Android™ 4.4 KitKat or higher and are available via the App Store® and Google Play™