SP-1130N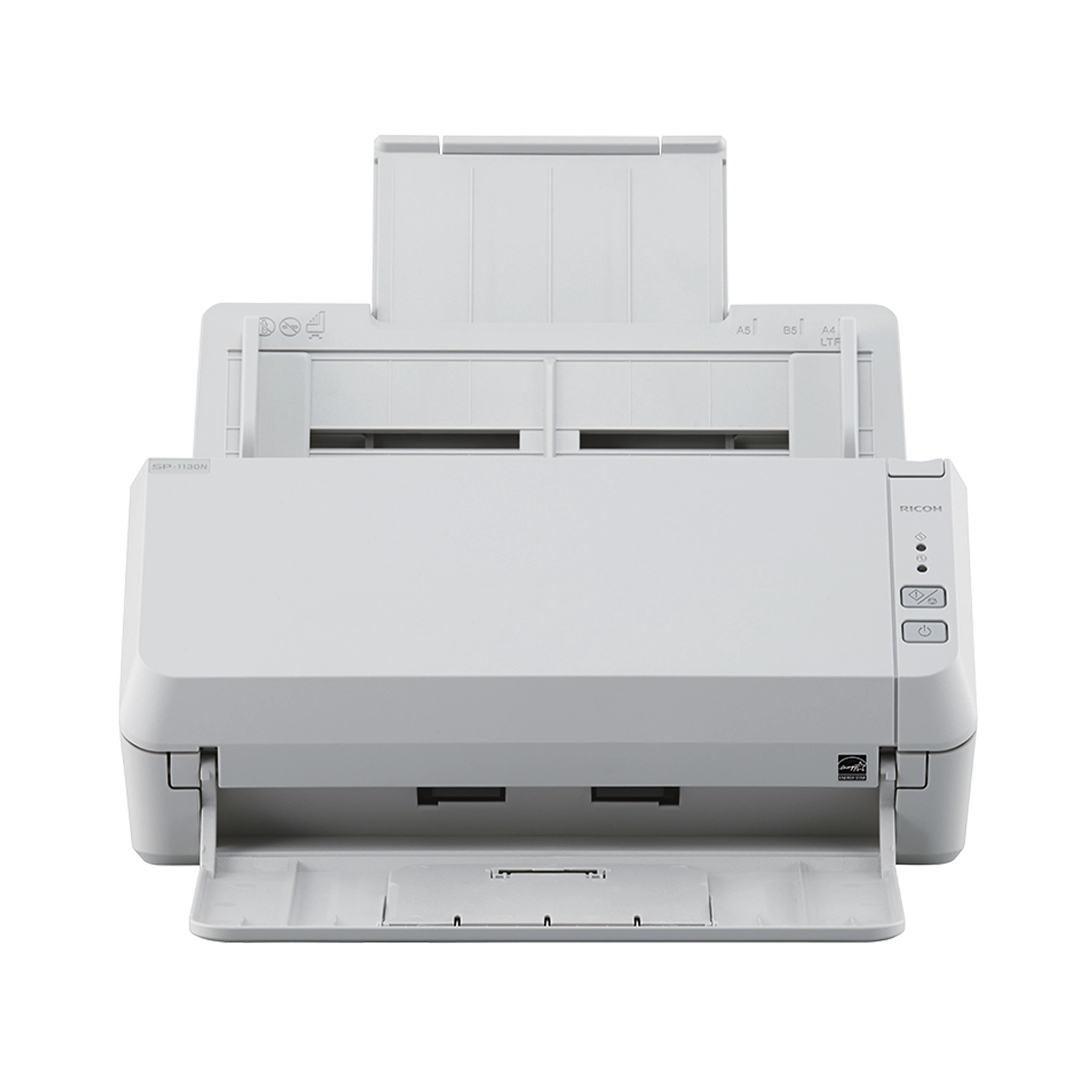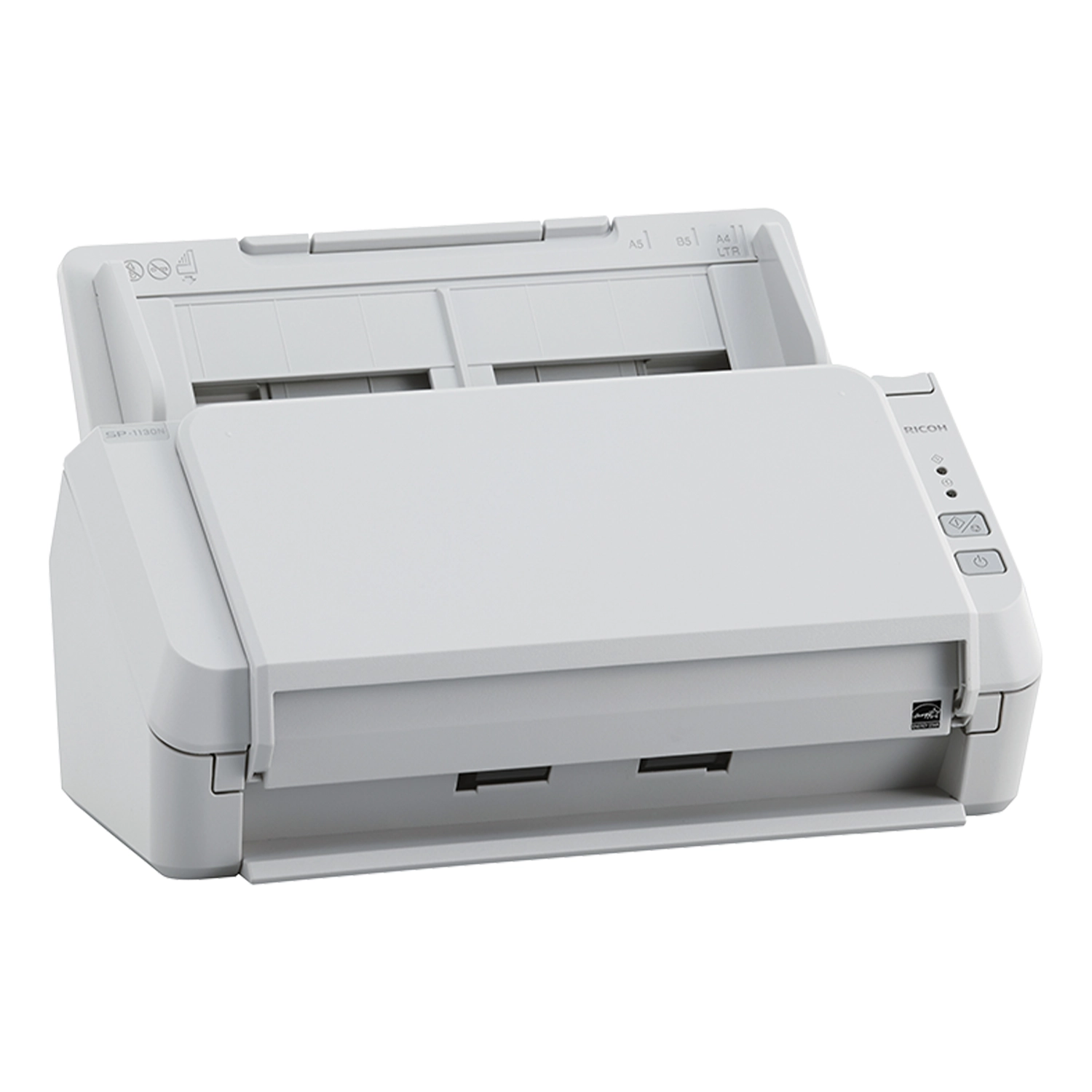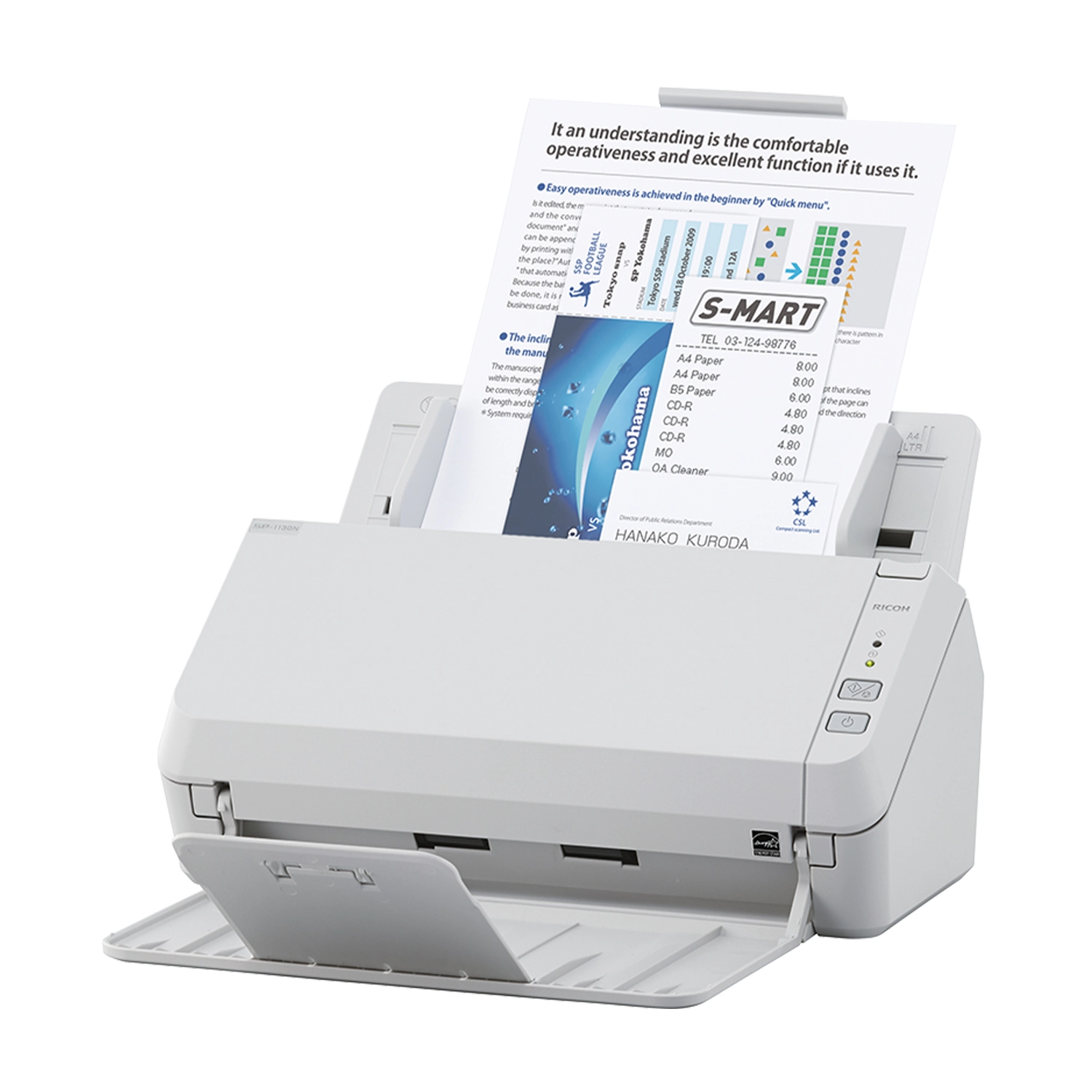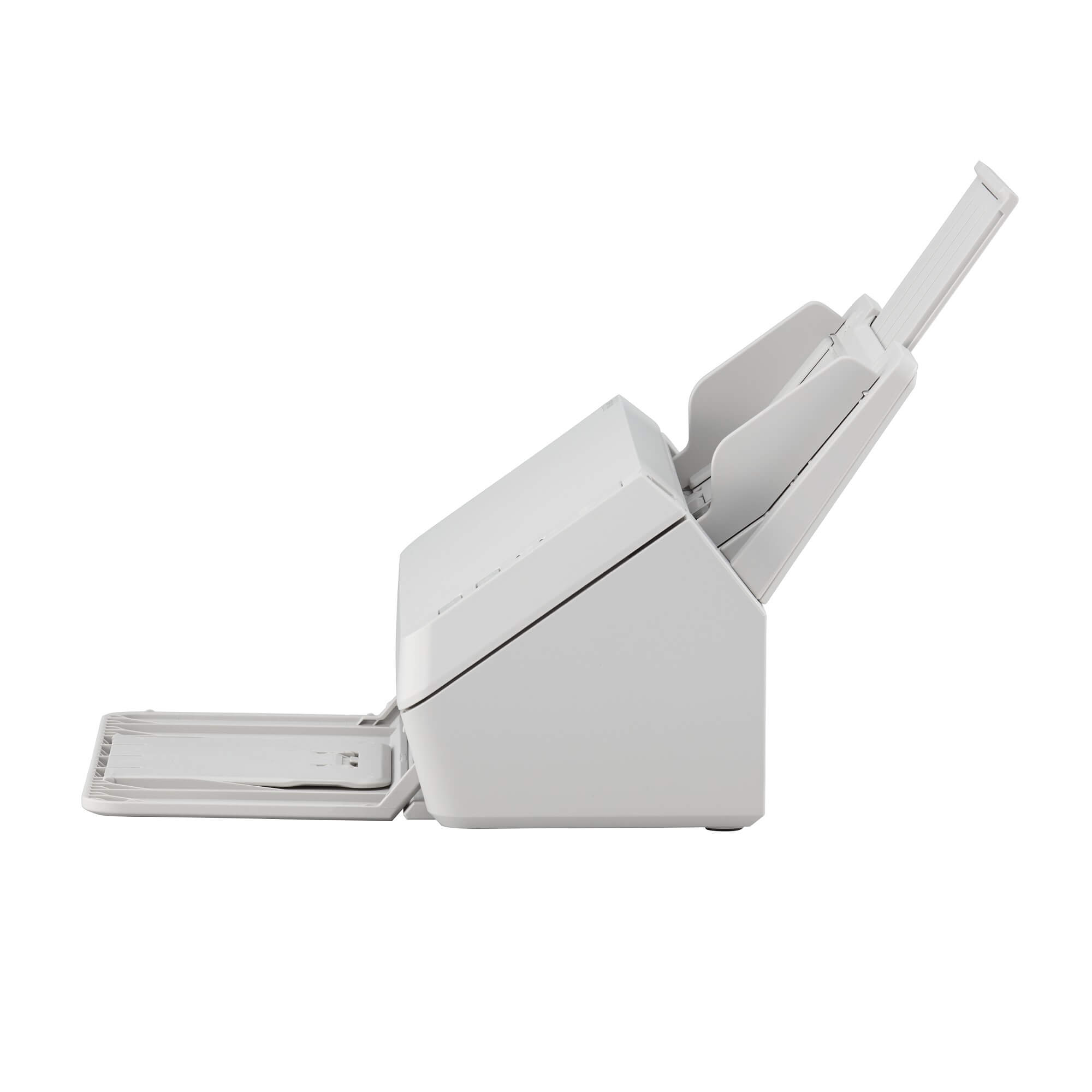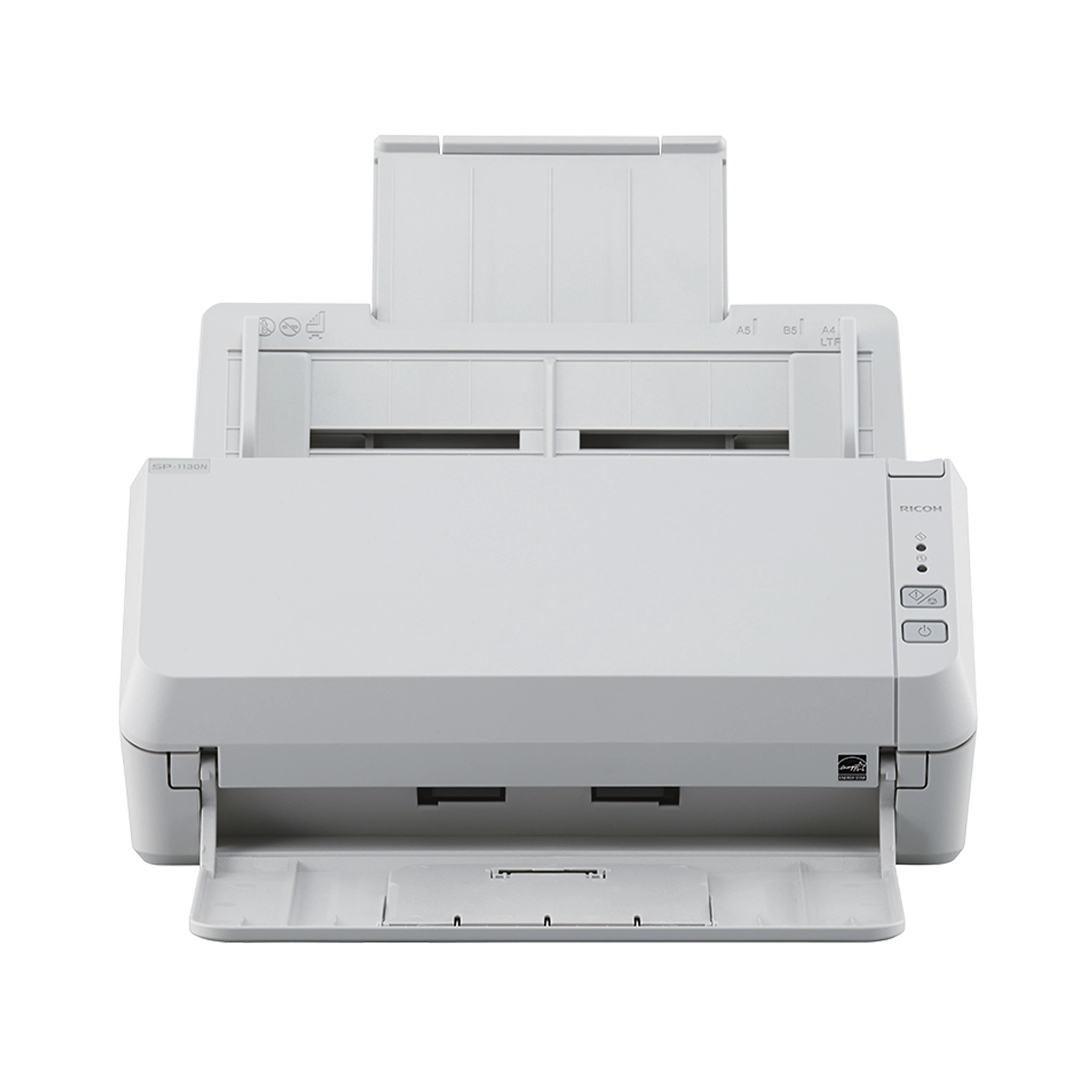 SP-1130N
---
30ppm/60ipm Gigabit Ethernet USB 3.2 A4 Duplex ADF Office Scanner
---
Supports both USB 3.2 Gen 1x1 high-speed connection and wired network connection
Compact and user-friendly design
30 ppm scanning speed model
Supports plastic card scanning
Comes with PaperStream IP and PaperStream Capture providing advanced image processing functions
Product Description
Simple and network compatible scanner for business
SP-1130N scans documents at 30 ppm/60 ipm (A4 portrait 200/300 dpi) and loads up to 50 sheets at a time. With a compact and network compatible design, the unit provides high-value performance as an entry-level model for all businesses. A compact footprint allows the SP-1130N to be placed in locations with space restrictions. And even with its compact body, the scanner supports both USB 3.2 Gen 1x1 high-speed connection and wired network connection are supported, so that it can be used not only near the computer but also in various places under the network environment.
Assistance for safe and reliable scanning
SP-1130N comes with brake rollers to deliver accurate page separation and prevent any multi-feeding errors from occurring. This mechanism and our ultrasonic multi-feed sensors combined, provide users with stable paper feeding, prevent any potential information loss from occurring, and enable scanning of all documents and cards at the office with maximized precision and efficiency. Application forms and ID cards at the reception desk, for instance, can be scanned in just one batch, allowing for quick processing and little customer wait time.
Flexible and easy operation to improve daily workflow
High-speed USB 3.2 Gen 1x1 and wired network connection expands the versatility of user operation so that users are no longer confined to operating near the computer. Operation is now possible in a wider variety of locations, with reliable network environment support. SP-1130N is also compact in size, making it the perfect scanner to use on a desk or reception space where space is limited. As an entry-level model, operation is simple with just 2 buttons to choose from: "Scan/Stop" and "Power ON/OFF". This simple and easy-to-use design minimizes scanning procedures and human errors in any organization. All these features combined, enable anyone to operate the scanner anywhere.
Software for ultimate business efficiency
PaperStream IP for SP Series, the scanner driver supporting both TWAIN and ISIS, enables hassle-free scanning so that operators do not need to make fine OCR setting adjustments. The software automatically converts scanned images into exceptionally clean images, raising OCR accuracy, even when scanning wrinkled and soiled documents, or documents with background patterns. With PaperStream Capture, capture batches of all sizes with utmost efficiency.
Accurate feeding ability for various documents -
The scanner handles a wide range of paper from thin to thick, as well as plastic cards to suit all scanning needs. Operators need not worry about unexpected interruptions, rescans, or damaged documents.
Document software for maximized flexibility
Easily find the information you need using ABBYY FineReader Sprint. Specializing in OCR processing, the software is compatible with over 190 languages and generates both searchable PDF and Microsoft Office documents.
Connect business workflow with PaperStream IP and PaperStream Capture - "The PaperStream IP scanner driver, supporting both TWAIN/ISIS, eliminates the need of making fine setting adjustments for OCR processes. It automatically converts images into exceptionally clean images, accelerating OCR even when scanning wrinkled, soiled and patterned documents. With an intuitive interface, PaperStream Capture allows users to feed information into their organization's workflow through various capture features during batch scanning effectively and efficiently."
Searchable documents made possible with ABBYY™ FineReader™ Sprint - With ABBYY™ FineReader™ Sprint, scanned data can be converted to searchable PDF or office documents such as Word/Excel® so that users can fully utilize the data in day to day work tasks.
Technical Specifications
Supported operating systems : Windows® 10 (32-bit / 64-bit), Windows® 8 / 8.1 (32-bit / 64-bit), Windows® 7 (32-bit / 64-bit), Windows Vista® (32-bit / 64-bit), Windows Server® 2012 R2 (64-bit), Windows Server® 2012 (32-bit / 64-bit), Windows Server® 2008 R2 (64-bit), Windows Server® 2008 (32-bit / 64-bit)
Scanner Type : ADF (Automatic Document Feeder)
Scanning modes : Simplex / Duplex, Colour / Grayscale / Monochrome
Image Sensor Type : Single line CMOS-CIS x 2 (Front x 1, Back x 1)
Light Source : R, G, B LED x 2 (Front x 1, Back x 1)
Document size : Maximum: A4 Portrait (210 x 297 mm) or Legal (8.5 x 14 in.) or 8.5 x 34 in. (215.9 x 863.6 mm) (long page scanning: 3,048 mm (120 in.)); Minimum: A8 Portrait / Landscape (52 x 74 mm)
Paper weight (Thickness) : Paper: 50 to 209 g/m2 (0.06 to 0.26 mm); A8 size: 127 to 209 g/m2 (0.15 to 0.26 mm); Plastic Card: ISO7810 ID-1 type compliant (0.76 mm or less, embossed plastic cards with total thickness of 1.24 mm or less)
Scanning speed (A4, Portrait) : Simplex: 30 ppm (200 dpi / 300 dpi); Duplex: 60 ipm (200 dpi / 300 dpi)
Paper chute capacity (A4 Landscape) : 50 sheets (A4: 80 g/m2) / 60 Sheets (A4: 64 g/m2)
Expected daily volume : 4,500 sheets/day
Background colours : White (Hardware, scanned background is grey)
Optical Resolution : 600 dpi
Output Resolution : 50 dpi to 600 dpi (adjustable by 1 dpi increments), 1,200 dpi (driver)
Output format : Colour: 24-bit, Grayscale: 8-bit, Monochrome:1-bit
Internal video processing : 65,536 levels (16-bit)
Interface : USB 3.2 Gen1x1 / USB 2.0 / USB 1.1 / Ethernet 10BASE-T,100BASE-TX,1000BASE-T
Connector shape : B type
Image processing function : Multi image output, Automatic colour detection, Automatic page size detection, Blank page detection, Dynamic threshold (iDTC), Advanced DTC, SDTC, Error diffusion, Dither, De-Screen, Emphasis, Dropout colour (None/Red/Green/Blue/White/Saturation/Custom), sRGB output, Split image, De-Skew, Edge filler, Vertical streaks reduction, Digital endorser, Background pattern removal, Character thickness, Character augmentation, Character extraction
Power requirement : AC 100 V to 240 V ± 10%
Dimensions: Width x Depth x Height : 298 mm x 135 mm x 133 mm (11.7 in. x 5.3 in. x 5.2 in.)
Weight : 2.5 kg
Included software / drivers : PaperStream IP for SP Series (TWAIN/TWAIN x64/ISIS), WIA Driver (15), PaperStream Capture, Software Operation Panel, Error Recovery Guide, ABBYY FineReader for ScanSnap (16), Scanner Central Admin, ABBYY™ FineReader Sprint™, Network Setup Tool for SP Series, SP Series Online Update
What's in the Box
SP-1130N
AC adapter
USB cable
Setup DVD-ROM