ScanSnap iX1600 (White)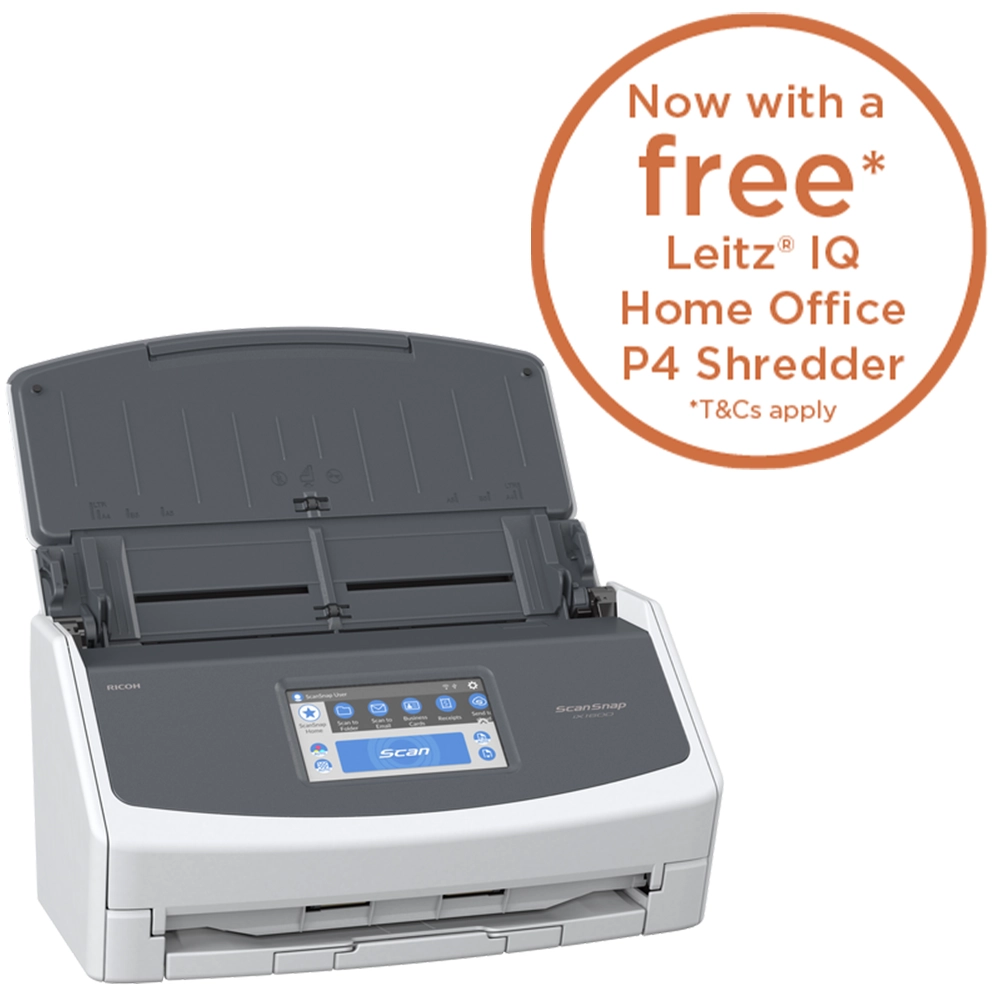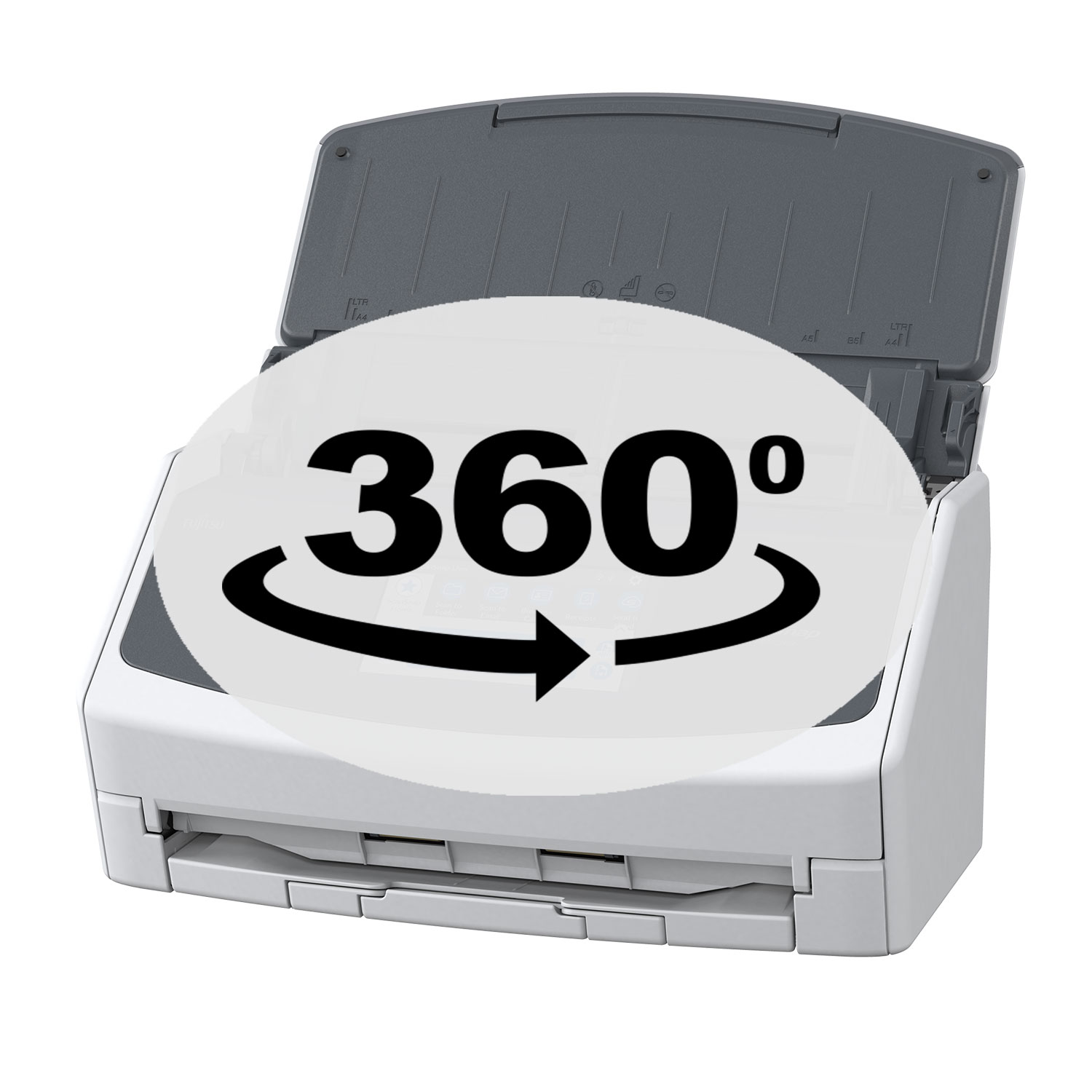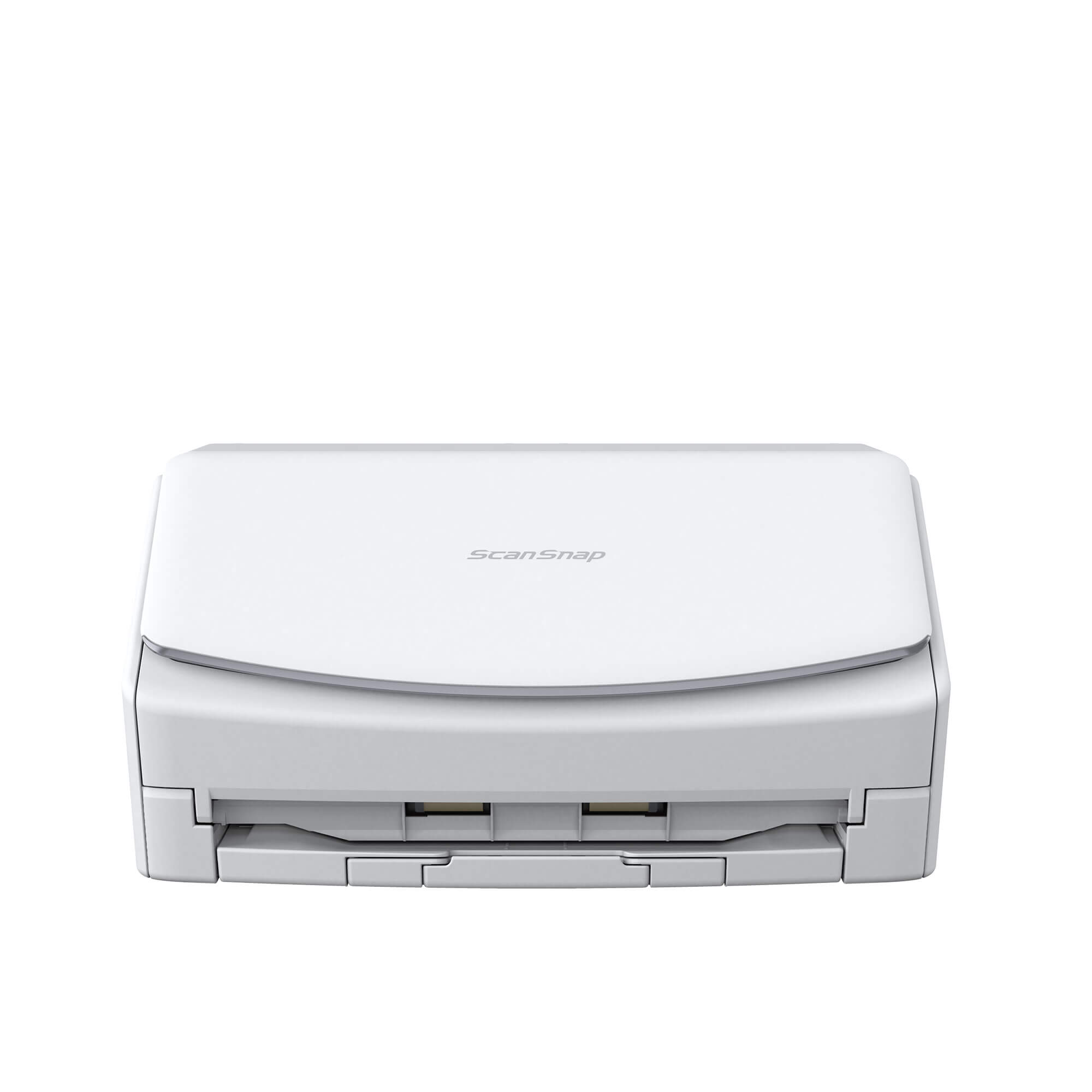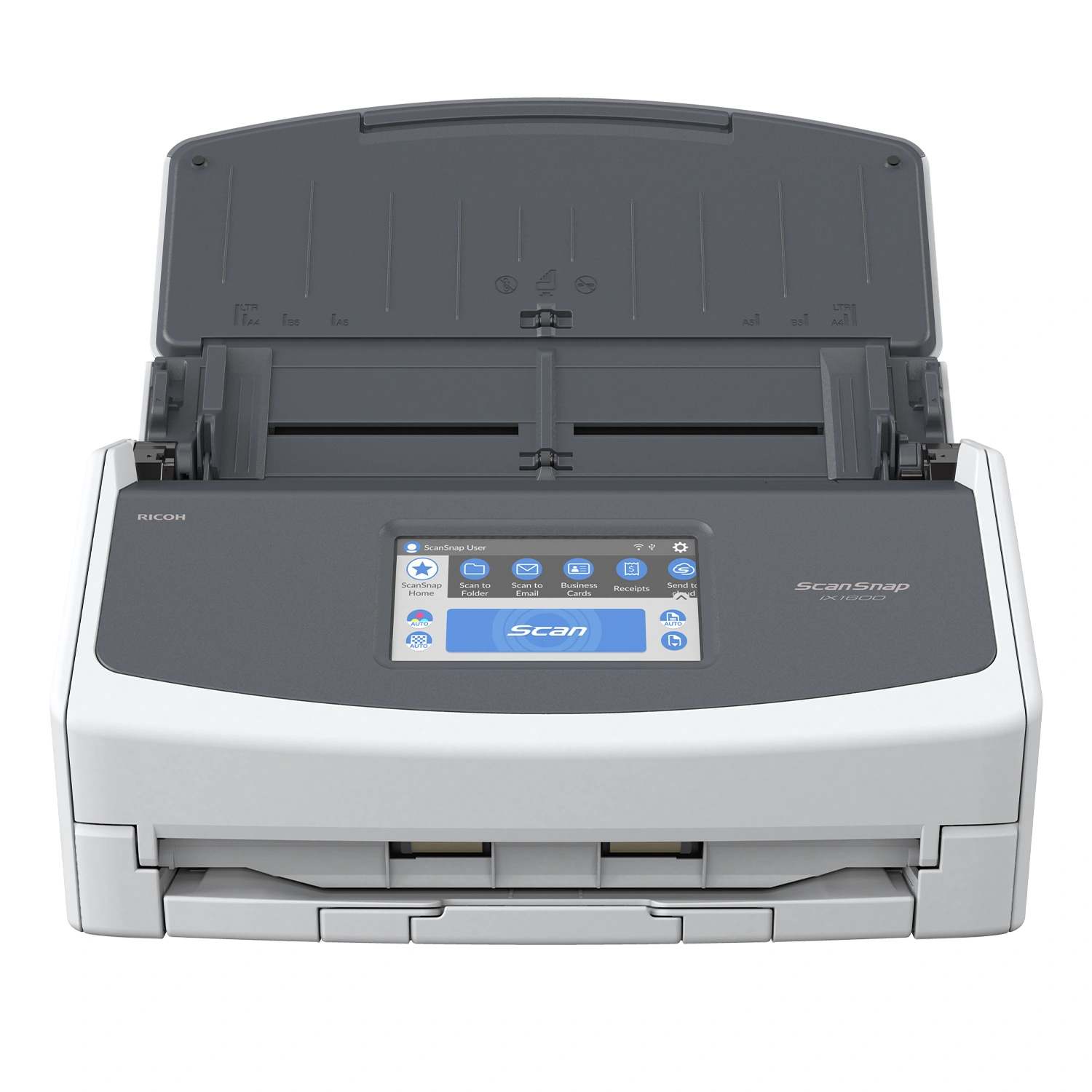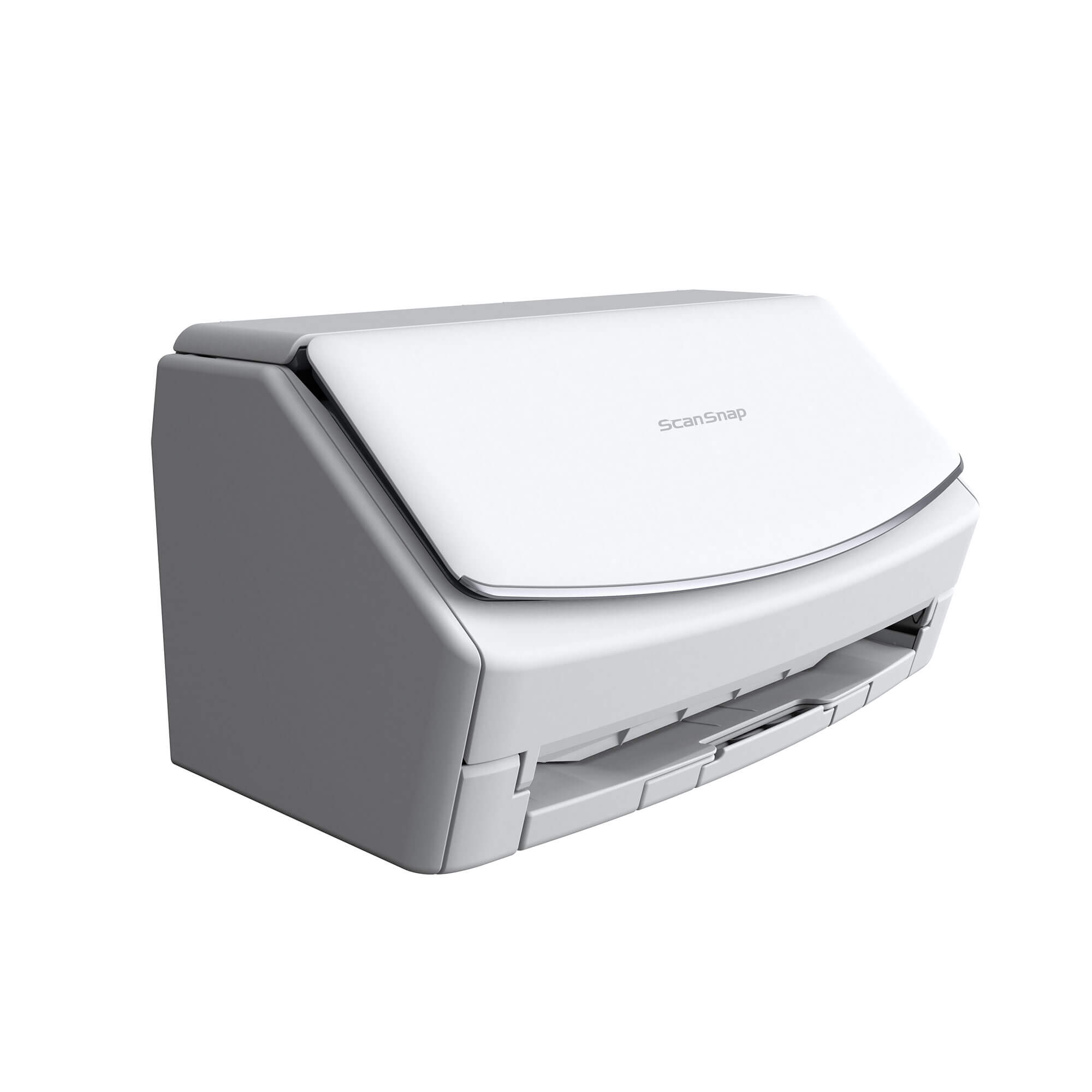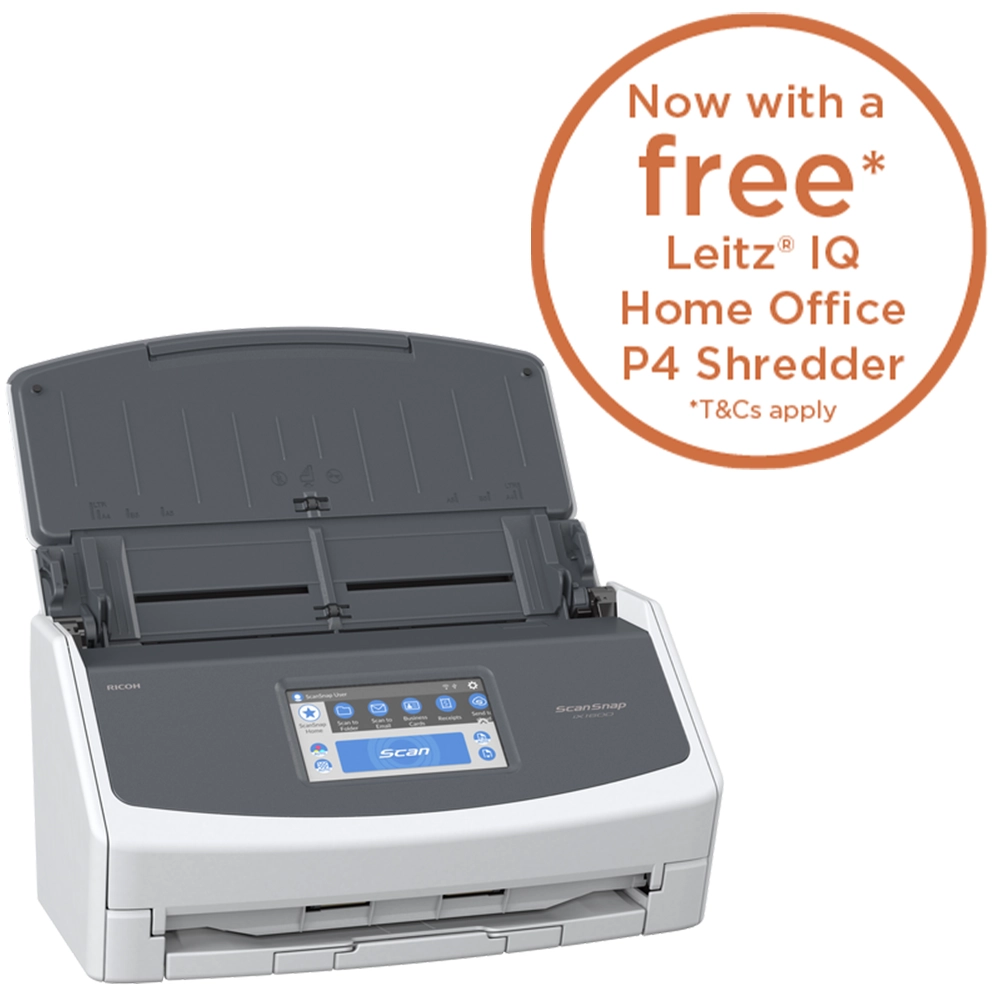 ScanSnap iX1600 (White)
---
40ppm/80ipm A4 Duplex ADF Touchscreen Wi-Fi USB 3.2 LED Desktop Scanner
---
Automated productivity. Scan, optimise, and save up to 50 sheets to the cloud, PC-free.
Intuitive touchscreen. Large, 4.3" screen lets you execute scans with one touch.
Team efficiency. Colour-coded, pre-defined scanning buttons for up to 5 users.
Powerful software. Easily search, manage, and retrieve your scanned documents.

From now until 31st March 2024, when you buy the ScanSnap iX1600 document scanner, we're offering a free* Leitz® IQ Home Office P4 Shredder.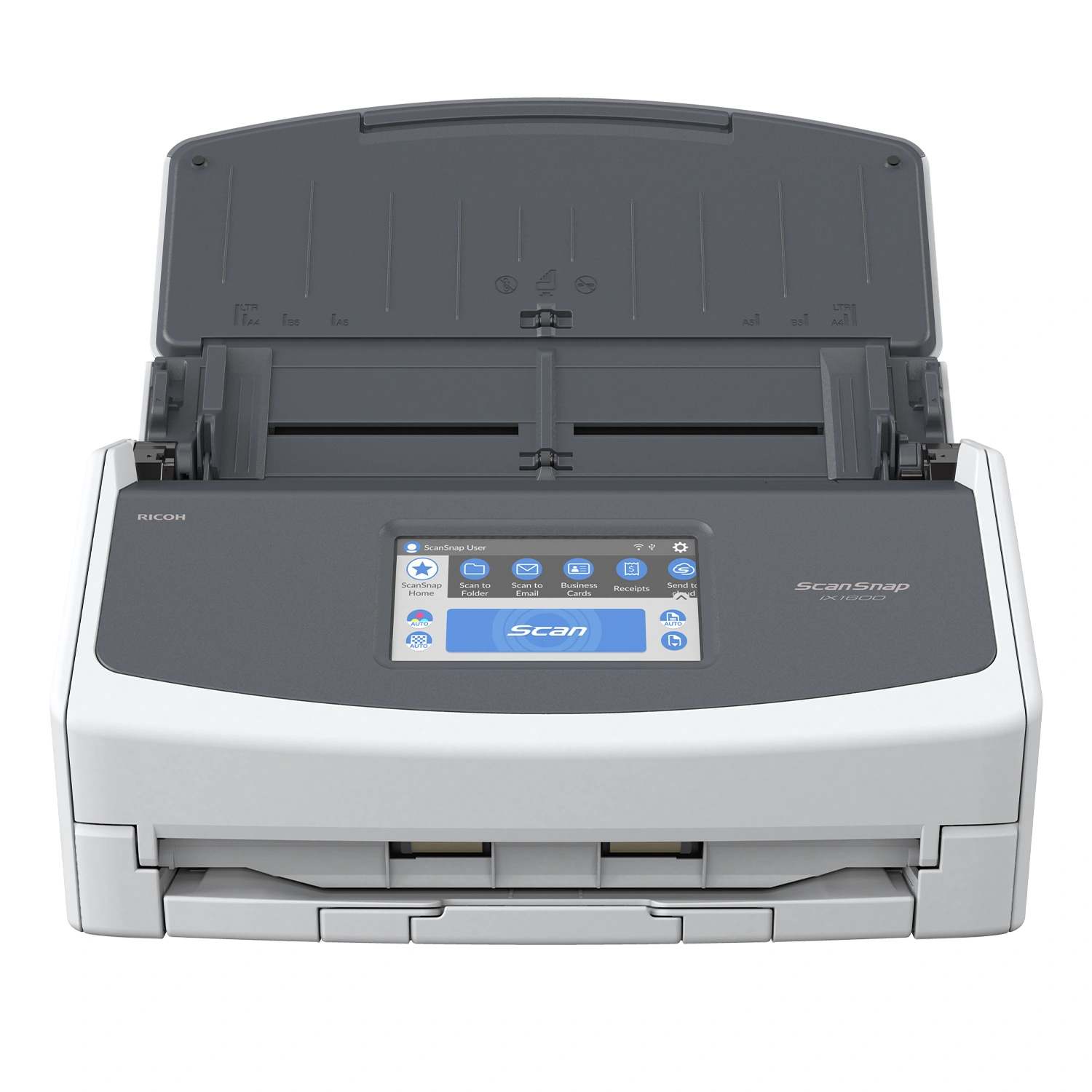 Product Description
For those with a need for speed, the next generation iX1600 offers the ultimate in personal productivity. Busy teams can digitise and organise all your documents with one touch, and enjoy all the benefits you'd expect from ScanSnap within the fastest possible times.
ScanSnap iX1600 White Desktop Scanner - The ultimate in personal productivity
Gives you even more time back
It can be hard work keeping a business in shape, and everyone can do with a bit more time back at the end of the day.
The ScanSnap iX1600 was designed to help anyone achieve maximum productivity, with advanced organisational features that give you greater control, effortlessly.
Flexible and intuitive
The iX1600's 4.3-inch LCD touchscreen delivers the future of scanning now. Instead of choosing what you want to do each time you scan a document, with one touch, the pre-defined profile buttons will automatically create the required file type and save it to your preferred destination – even if it's in your cloud. The touchscreen also allows for colour-coded button sets for up to five teammates, making it the smarter way to work together using the same device.
Plus, you can quickly set up and use the iX1600 anywhere you have Wi-Fi without the need for a PC. Scan straight to your cloud services using ScanSnap Cloud. And a streamlined scanning process lets you scan batches of different document types with no need to prep and sort, turning lengthy chores into quick, even enjoyable jobs.
The all-in-one ScanSnap Home software brings together all your favourite functions to help you power through your scanning in no time. By making your paperwork effortless, you can finally focus your day on what matters most.
Wherever you call your desk, the iX1600 offers next generation scanning performance and the ultimate in personal productivity to connect your worlds with one-touch.
Features - Powerful, efficient performance
Ultra-fast set-up and start-up
Scanners should make your life easier, not slow you down. Offering the ultimate in time-saving performance, the ScanSnap iX1600's simple setup will have you converting your papers into useful digital files in no time. Once set up, simply open the cover and your ScanSnap is ready to go.
Maximum productivity
Designed for busy people, the iX1600 makes your working day a breeze. In addition to scanning at a fast 40 pages per minute, the two-sided (Duplex) scanning function will have you digitising paperwork in half the time.
The large Automatic Document Feeder holds up to 50 sheets, freeing you from the tedious job of manually inputting individual pages, so you can speed through your work even faster. Professional grade feeding technology and ultrasonic sensors mean the iX1600 handles multi-page documents with ease. The scanner can be set to alert you if two or more pages are fed through the scanner at once, delivering peace of mind that not a single page of your documents will get lost along the way.
And the iX1600 Receipt Guide will also save you time otherwise spent prepping and feeding individual receipts and business cards. After all, everyone has better things to do with their day.
Automated, intuitive operation
Quickly and easily convert the papers you have into the applications you use. The 4.3-inch intuitive touchscreen lets you carry out pre-programmed scans, all at the touch of a button.
Whether you're creating searchable PDFs, editable Word, Excel or Powerpoint files, or extracting information from receipts or business cards, the iX1600 will automatically scan and save your documents to the pre-defined destination of your choice.
PC-free scanning
Not everyone works from a desk these days. As long as there's a Wi-Fi connection, ScanSnap Cloud functionality will automatically recognise up to four different document types and scan them to your pre-defined cloud storage locations. Even with no PC, ScanSnap Cloud will conduct image processing and optimisation along the way. Simply place the scanner in the most convenient location for you, and scan away.
Flexibility at your fingertips
For small teams, the ability to share a single device among 5 users will be a game-changer for your productivity. Each can have their own set of colour-coded scanning profile buttons.
Wi-Fi or USB provide flexible deployment options, or alternatively, you can scan a PDF directly to your mobile device via Wi-Fi in Direct Connect mode.
Quick Menu for instant scanning
When using a PC or laptop, activating the Quick Menu function allows you to scan first and then decide which application you want to send your document to, which comes in handy for ad-hoc scanning. You'll find most of the applications you know and use ready for you in ScanSnap Home, and can always add more to the Quick Menu if required.
Total document management - Intuitive ScanSnap Home software
ScanSnap Home software (included) allows you to easily manage, edit, and use scanned data from documents, receipts, business cards, photos and more.
Documents can be automatically recognised grouped and saved according to document type while folders, tags, and keywords allow you to organise, search, and find information more easily than ever before.
Technical Specifications
Scanner Type : Automatic Document Feeder (ADF) / Manual Feed, Duplex DESKTOP Scanner
ADF Capacity : 50 x A4 80 g / m², 50 x Letter 20 lb
Scanning Colour Modes : Colour, Greyscale, Monochrome, Automatic Detection (Colour / Greyscale / Monochrome)
Optical Resolution : 600 dpi
Image Sensor Type : Colour Contact Image Censor (CIS) (Front & Back)
Light Source : 3 Colour LED (Red / Green / Blue)
Scanning Speed (A4 Portrait) : Simplex 40 ppm / Duplex 80 ipm
Media Support
Standard Sizes : A4, A5, A6, B5, B6, Business Card, Post Card, Letter, Legal and Custom Sizes.
Custom Sizes : Minimum: 50.8 mm x 50.8 mm (2" x 2"), Maximum: 216 mm x 360 mm (8.5" x 14.17")
Manual Feed Sizes : A3, B4, 279 x 432 mm (11 x 17 in.)
Paper Sizes with optional Carrier Sheet : A3, B4, Double Letter, Photographs and all Standard Sizes above.
Paper Weight : 40 g/m² to 209 g/m² (11 lb to 56 lb)
Long Paper Scanning : 3,000 mm (863 mm in 32-bit), Smart Device: 863 mm (Duplex), 1,726 mm (Simplex)
Card Scanning : Card 0.76 mm or less (Non-embossed), 0.76 + 0.48 mm (Embossed) (ISO7810 Conforming) in landscape orientation
Paper Feeding Orientation : Front side down
Multi-feed Detection : Overlap detection (Ultrasonic Sensor), Length Detection.
Image Processing Functions : Automatic: Size Detection, Colour Detection, Cropping, Deskew, Rotation, Blank Page Detection / Deletion. Image Smoothing, Image Emphasis, Error Diffusion, Edge Correction, JPEG Compression, Vertical Streaks Reduction.
Output File-types : JPEG, PDF, Searchable PDF, Password PDF, PDF/A.
Local Interface : USB 3.2 Gen 1 / USB 2.0 / USB 1.1 (Type-B Connector)
Wi-Fi Interface : IEEE802.11b/g/n, 2.4 GHz, Access Point Connect Mode (Infrastructure Mode) / Direct Connect Mode (Ad-hoc Mode), WEP (64bit / 128bit), WPA (TKIP / AES), WPA2 (AES), WPA-PSK (TKIP / AES), WPA2-PSK (AES), WPS2.0
Human Interface : 4.3" Colour TFT with Touchscreen operation
Power Requirements : 100V - 240V AC ±10 % (50 / 60 Hz)
Device Driver : ScanSnap specific driver, Windows®: Does not support TWAIN / ISIS®, macOS®: Does not support TWAIN
Device Dimensions (Height x Width x Depth) : 292 mm x 161 mm x 152 mm, 11.50" x 6.34" x 5.98"
Device Weight (approx) : 3.4 kg (7.5 lb)
Environmental & Regulatory Compliance : ENERGY STAR® / RoHS
2 Year PFU Warranty : Advance Exchange Next Business Day. Includes replacement of defective product and two-way shipping costs. Included in the price of a new scanner product.
Included Software : ScanSnap Home, ScanSnap Manager, ABBYY FineReader for ScanSnap™, Kofax® Power PDF Standard / Kofax® Power PDF Standard for Mac, ScanSnap Cloud, ScanSnap Connect Application
What's in the Box
ScanSnap iX1600 White
ScanSnap Home (4 user licenses)
ScanSnap Manager
ABBYY FineReader for ScanSnap™
Kofax® Power PDF Standard / Kofax® Power PDF Standard for Mac (1 user license)
ScanSnap Cloud
ScanSnap Connect Application
AC adapter
Power Cords (EU / UK)
Receipt Guide
2.0m USB 3.2 Gen 1 Cable (Type-B)
Welcome Card
Safety Precautions Sheet
Warranty Sheet